During the second World War, Americans of all colors, races and backgrounds came together to fight the Third Reich. The Cuban revolution brought together everyone from aristocrats to peasants. In fact, pretty much every social revolution from the French to the American share that consistent theme: Strange bedfellows, formerly estranged elements (if not outright enemies) united in a fight against fascist dictatorships. In fact, the coming together of long estranged elements may be the single most defining trait of any burgeoning revolution. And that context makes this story (among many similar stories in recent days) potentially pretty exciting.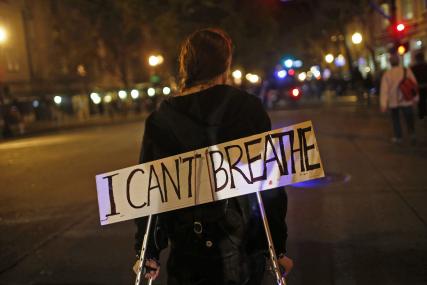 The failure of a New York grand jury to indict Eric Garner's killer, among many others, has driven outrage among practically everyone in this country…including many of those who just a few weeks ago were gleeful Darren Wilson cheerleaders. These include a white evangelical Christian leader named Russell Moore, president of the Southern Baptist Convention's Ethics and Religious Liberty Commission.
After the verdict of injustice regarding Garner, Moore made a statement that wouldn't have been out of place in 1964, or spoken by a black pastor in Selma:
"African-American brothers and sisters, especially brothers, in this country are more likely to be arrested, more likely to be executed, more likely to be killed.
It's time for us in Christian churches to not just talk about the gospel but live out the gospel by tearing down these dividing walls not only by learning and listening to one another but also by standing up and speaking out for one another."
Of course, without the tiniest hint of smugness, those of us on this side of the political spectrum have for decades been pointing out the massive disparity between the teachings of Jesus and the policies of the neo-conservative right. The two never fit together, and it's only been on the strength of wedge issues like abortion and homosexuality that the two have maintained any kind of relationship…at least since Pat Robertson hate-welded conservative Republicans and evangelical Christians together in 1988. Since then, the hypocrisy has been thick enough to cut with a crucifix.
But that may be changing.
Moore is only the tip of a much larger iceberg in the evangelical Christian world, but one voice in what's becoming a much larger movement. A movement that may finally re-synthasize white Christians into liberalism…where they and that hippy socialist Jesus always truly belonged.
Danny Akin, president of the Southeast Baptist Theological Seminary:
"I beg God to bring good out of this tragedy."
Tweeted Alabama Southern Baptist pastor Scott Slayton:
"Love your neighbor as yourself' means you picture yourself being choked and surrounded by five men while you say, 'I can't breathe'"
Reverend Alan Cross, white pastor of Montgomery, alabama and author of "When Heaven and Earth Collide: Racism, Southern Evangelicals, and the Better Way of Jesus.":
"What often happens when white evangelicals try to speak into this is that we continue to think first in terms of our own position…We should consider what people in the black community are saying, what are they going through, what is their experience."
Barnabas Piper, writer and brand manager for Ministry of God at LifeWay Christian Resources:
"Put yourself in the shoes of the authors and immerse yourself in the experiences they describe. You and I need to do so if we want to contribute anything to stopping injustice and closing the racial gap that exists.
Serene Jones, President of the Union Theological Seminary in New York, and former Titus Street Professor of Theology at Yale:
"The degradation and demeaning of black life must stop. What the hell kind of country do we live in?"
Again, it's worth noting that all of these influential voices are white. And they truly are representative of a much larger sentiment in the white Christian community. The reaction of the black Christian community has varied from relief, to joy to "well, it's about time." Feeling s have been positive, but mixed in expression. Reverend Barbara Williams-Skinner, co-chair of the National African-American Clergy Network, probably sums that perspective best.
"It just so offends the human spirit of people of every race that it compels them to act. We don't have to ask young white students and young white adults anymore to act. They understand … if the system will so violate the rights of people of color today, they will violate everybody's rights tomorrow."
With his last words, Eric Garner summed up how so many feel in America today: "I can't breathe." Somehow, this innocent man — like another innocent man murdered by a police state some 2,000 years ago — has done what even Michael Brown's death couldn't do. Moore:
"I have gotten responses, and seen responses, that are right out of the White Citizens' Council material from 1964 in my home state of Mississippi, seeing people saying there is no gospel issue involved with racial reconciliation.
Are you kidding me? There is nothing that is clearer in the New Testament than the fact that the gospel breaks down the dividing walls that we have between one another."
Ferguson split our nation in into shards, shattering what little cohesiveness we still had like a stone thrown into a mirror. But in those shards, we couldn't help but see our own faces. Black, white, Christian, atheist…in the broken vision that is America today, we can see ourselves for what we are: reflections of one another.
And that, ladies and gentlemen, is how revolutions begin.
[divider]
H/T: Huffington Post