It's not easy being a white supremacist in 2014 — just seems kids these days don't appreciate racial purity and nationalist pride the way they used to. Indeed America, we've come to a pretty sad place when you can't even get high-school auditorium time or a place on the ballot in Kentucky with quaint and catchy roadside advertising campaigns like "WITH JEWS WE LOSE."
And make no mistake, Robert Randsdell may be a coordinator for the Neo-Nazi hate group the National Alliance — but in most other ways, he's a pretty standard Republican: hates immigrants, queers and the Federal government, thinks Christians are being persecuted, believes in "natural, God-given rights," supports the Second Amendment, thinks the mainstream media is run by a liberal conspiracy. All that good Tea Party stuff. And he's happy to talk about all of it publicly, just like the Tea Party.
Unfortunately, though, Mr. Randsdell has a habit of talking about things that don't make it past the private thoughts (or at least private rallies) of his GOP siblings. See, Ragin' Rob Reich believes (like many evangelicals) that the reason more people don't see things his way is that they just haven't heard the Good Word of White Supremacy. Not only does he say that his mission regarding homosexuals would be to "halt the tolerance and promotion of this sickness in the nation," he's also managed to brilliantly work together both racism and "They're comin to git yer GUNS!"
"If you want to keep your firearms you had better also support the immediate annihilation of racial integration in America because the savage and uncivilized nature of most Blacks will soon lead to laws that severely restrict or ban firearms."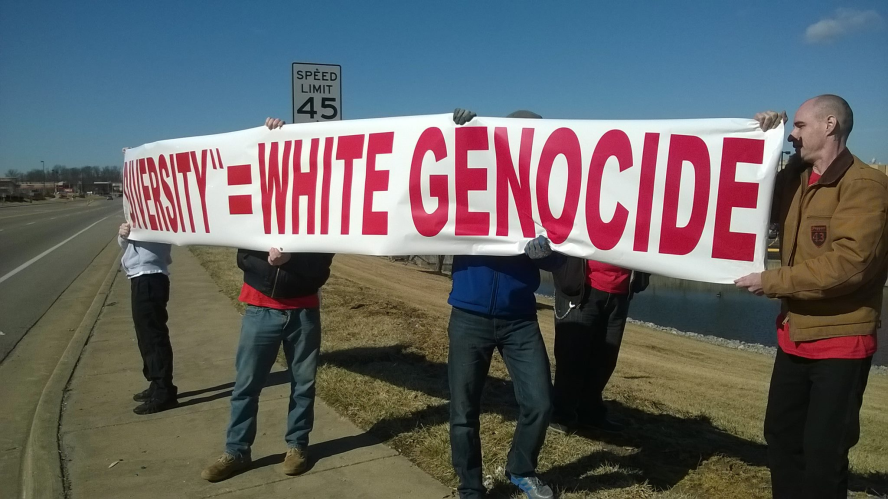 Randsdell knows he doesn't stand a chance of winning — he's not even on the ballot. But that really isn't the point — the point is the message. And on Constitution Day (naturally) he talked his way into a local school assembly to deliver that message to The Children.
Of course, things started out predictably enough — the journalism students gathered more or less ignoring Rob and talking among themselves. Until certain odd little phrases started sneaking into his speech:
"Shrinking white majority," "ethnic interests," "war against white people," "subject to attack by black criminals," "white Western civilization," and of course, referring to the Constitution as "this sacred document."
Standard Tea Party, really.
And nothing remotely Nazi-esque in THIS poster
It was at this point that school administration began to suspect something was awry in the Reich, pulling a Hannity to cut Robert's mic. Amid the speech, you can hear students booing, saying "shut up" and "go away."
The journalism teacher afterward gave a pretty stirring summation of the group's feelings, and a welcome re-calibration to reality. But there's no doubt, the real lesson of the day was of how quickly "Stand With Rand" becomes "With Jews, We Lose."
H/T: The Daily Beast
Read More on AATTP…