"Trained observer." These two words have been the basis for more lies, more false convictions, more accusations and more justifications for brutality than any other two in history, perhaps apart from "God's will." Legally speaking, a person with "trained observer" status like a cop might as well be a 3-D IMAX recording events in full 1080p; fidelity goes without saying. And that was a valuable thing back when police were public servants — now, though, the only "trained observer" we can rely on is the little glass eye that never blinks.
After going out to get a pizza, Marine Corporal Curtis Shannon found himself in an unfortunate position on December 26th 2013, while visiting St. Petersburg, Florida. That position was sitting on the side of the road, with the city police department demanding that he step out of his vehicle. The report said they had pulled him over for "driving in an erratic manner" — though the officer's very first words in this video are a bit more telling of his thought process. When Cpl. Shannon asks why the officer had pulled him over, he said:
"Because I wanted to. Now step out of the vehicle!"
Shannon responds:
"'Because I want to' isn't a legal reason to pull someone over, let alone ask them out of a car. Can you tell me why you pulled me over?"
The officer replies "This isn't up for debate," and again tells him to step out of the car. Shannon replies, offering his papers through a three-inch gap in the window:
"Sir, I don't feel comfortable getting out of the car when I don't even know why you're here. Why do you need me to step out of the car? I'm not a criminal and my papers are all legal."
Again, he offers the papers, and the officer refuses to take them, or even acknowledge that they're there. Again, the officer demands he step out of the car.
"I need to see you. I need you to get out of this car, is what I need you to do." Shannon asks why he's being asked to leave the vehicle. The officer replies "Because I asked you to."
Shannon replies
"That's not a good reason."
The officer threatens to break the car's window, and even attempts to force it down, eerily foreshadowing the words that follow from Shannon.
"I've already heard enough about [St. Petersburg Police Department] around here. I'm not going to step out of this car so you can beat the hell out of me."
(As your author and one-time resident of St. Petersburg can tell you, Shannon isn't exaggerating. The SPPD does have a well-deserved reputation for brutality and excessive force. For visiting family members, "Don't get pulled over" is the local equivalent of "Welcome to St. Pete." )
The officer replies "So I can do what to you?"
Other officers arrive (presumably as witnesses), and one promises he will not be harmed. Shannon reluctantly opens the door. Reluctantly, because despite the new officer's promises, he's already accepted what's about to happen.
Knowing he's being recorded, the original officer demands that Shannon put the phone down and turn it off. The last sounds you hear in the video are the car door opening, and Shannon saying the words
"Sir, you're grabbing onto me. I told you I would step out of the car," followed by the straining officer's voice saying "Get out of the car." Cut to black.
Shannon picks up his story afterward, writing on GoFundMe:
As you can see and hear, while I tried to remain as calm, courteous, and respectful as the situation would allow, the officer only grew more and more hostile as the the encounter progressed. So much so, that I requested he physically changed places with another officer who didn't look like he wanted to slam my head into the ground. I even tried revealing that I was a military veteran, hopefully that would calm him down a bit, we're on the same side. That clearly wasn't happening, but you do hear another officer assure me that no physical harm would come to me. I took his word for it (silly me), grabbed my phone (now a camcorder) so I could continue recording from outside the car and opened the car door.
As you can hear, the aggressive officer immediately grabbed me by the collar and tried to yank me out of the car. I asked him to let me go, I was already cooperating and that hostility was the reason I didn't want to get out of the car in the first place. Even so, I let go of the frame of my car and accepted my fate. I was getting beat up tonight, there's no denying that. The officer then slammed me onto the ground, making sure that my head made full contact with the curb on the way down.
He got on top of me and demanded I give him my arm (so he could handcuff me). I couldn't. He was intentionally pinning that arm to the ground with his knee and he knew it. For almost two minutes, he would elbow me in the back of the head (elbows don't leave bruises or bumps as easily), knee me in the ribs and kept yelling for me to give him my arm. Then it started to make sense. As the stars flashed behind my eyelids after every strike, I realized that we are between two parked cars. No one can see us. As far as anyone else can tell, I'm fighting this officer on the ground.
So I just laid there and shouted as loud as I could , "YOU'RE PINNING MY ARM TO THE GROUND!! QUIT PUNCHING ME!!" He stops and you can start to hear the mumbles and murmurs of the neighbors as they start to discuss what's happening. The officer realized that playtime is over and cuffs me. When he gets me off the ground, I could see the mischevous grins on two of the officers' faces. The third one, the one who said I would'nt be harmed, just stood there almost in disbelief. Maybe he was new, I don't know."
You can read the police officer's report at the bottom of Shannon's "GoFundMe" page. But here's all you need to know: It contains the words
"…charged toward me…"
Huh…seems like we've heard that one before. Fairly recently. What an odd coincidence. Lot of rhinos in this America these days.
They initially charged him with felony "Resisting/Obstructing with Violence," but quickly reduced the charges to misdemeanor "Resisting/Obstructing Without Violence." Almost as though they knew they were lying the first time, and were afraid the new guy wouldn't play ball in court. (You can believe, Florida doesn't drop felony charges out of the kindness of its heart.) They offered Shannon a slap on the wrist with a "pre-trial intervention," and a dismissal of his case afterward. But he's refusing to take it. Why?
"Accepting the program requires an admission of guilt to the offense I've been accused of. Doing so eliminates any chance I have of filing a suit against the state and possibly changing the way the police behave in the city."
Ahh…the old "don't sue us, no harm no foul, we'll make this all go away real quiet." SOP for Florida state attorneys when cops are in the wrong and a lawsuit's on the way. As close to an admission of guilt as is possible for Florida law enforcement. Hush money. Which brings us to Shannon's GoFundMe account.
Shannon's fighting the case, having spent almost $2,000 on lawyers, with more certainly to come — and that's put his family behind in a bad way. Shannon's set a modest goal of $5,000 to offset the current and impending legal fees. He's also moved his family out of the area, fleeing the police who had so recently proven their reputation as brutal thugs. Also, quite possibly, fearing retribution for the lawsuit and subsequent exposure to come.
Marine Corporal Shannon is fighting this case, turning down a slap on the wrist and quiet dismissal, not just for money, but to force Florida to admit that it has a problem with law enforcement.
Like everywhere else these days, it seems.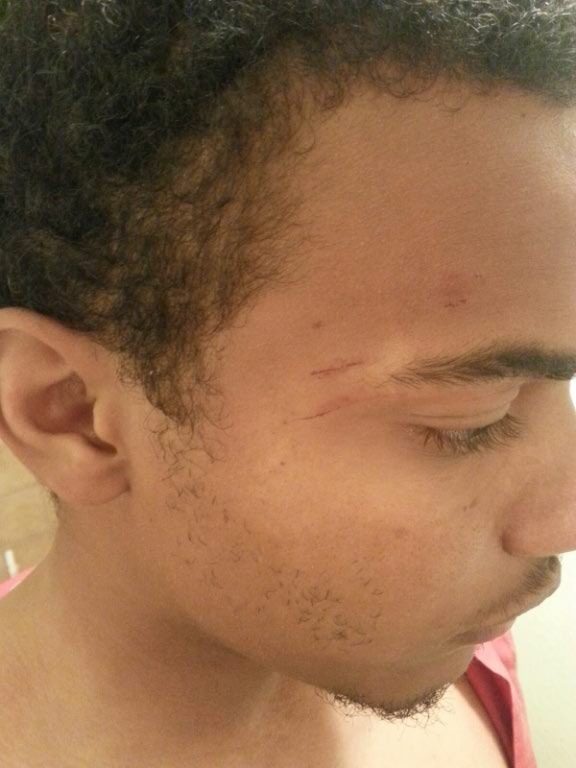 H/T: Raw Story