For almost as long as America has existed, someone's been fighting to tear it apart and institute a new form of government — some people just aren't fond of a representative democracy. A few times in our history, the nation has flirted with collapse, with a return to the kind of feudal system that once dominated Europe. While most of those attempts never came close, the people that stand to profit from it have learned one very important lesson: When collapse starts at the bottom, the guys already on top land on top of the scrap heap.
For years, corporate libertarians have been doing their best to dismantle the government and replace with their own, an unelected power grab operating under the benign-sounding name of "privatization." Since the privatization of America's former justice system began some 35 years ago, we've seen not only a massive increase in crime, arrests and prison populations, but a fundamental change in how police operate. Gone are the days of "to protect and serve."
But, people will adapt — take this list of Tips for Being an Unarmed Black Teen from The Onion.  Recently, the Onion Magazine (following a long tradition of darkly satirical headlines) posted this cover image, with the tips article that follows: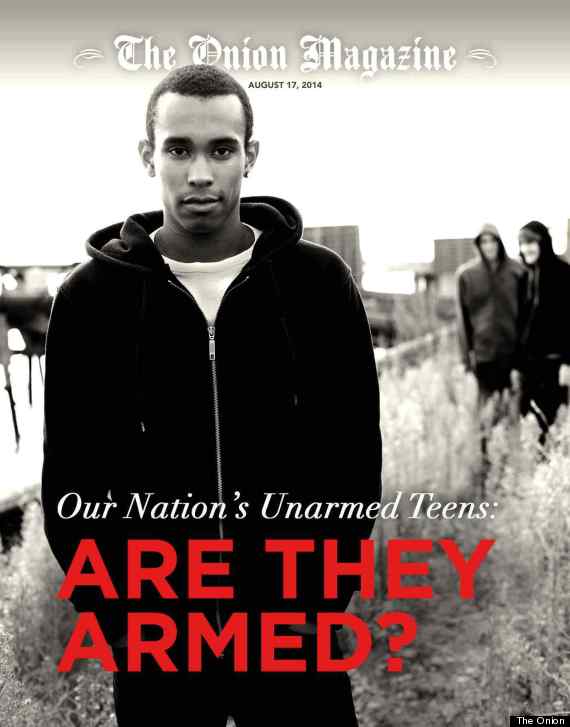 [divider]
The Onion's Tips for Being an Unarmed Black Teen in America (with AATTP commentary):
Shy away from dangerous, heavily policed areas. (Consider moving to Somalia, where it's safer.)
Avoid swaggering or any other confident behavior that suggests you are not completely subjugated. (Remember, modern police are taught to assume compliance; if you give the appearance of threatening their Alpha Male status, they will reassert dominance by killing you.)
Be sure not to pick up any object that could be perceived by a police officer as a firearm, such as a cell phone, a food item, or nothing. (Remember: the Nothing you're carrying will only get kicked away from your lifeless body afterward…just in case anybody's watching.)
Explain in clear and logical terms that you do not enjoy being shot, and would prefer that it not happen. (Request to be Tased instead. As members of the corporate conservative corruption club ALEC, Taser International will appreciate your business.)

Don't let society stereotype you as a petty criminal. Remember that you can be seen as so much more, from an armed robbery suspect, to a rape suspect, to a murder suspect. (

But whatever you do, don't give the impression that you intend to become a rapper afterward. They'll kill you preemptively.)

Try to see it from a police officer's point of view: You may be unarmed, but you're also black. (Or brown. Or white, in the right towns.)

Avoid wearing clothing associated with the gang lifestyle, such as shirts and pants. (

Also, avoid wearing underwear…they're no great fans of Mormons, either. And, whatever you do, don't walk out of the house carrying a towel, scarf or other long piece of fabric that may potentially be used as a head covering; Muslims are always fair game.)

Revel in the fact that by simply existing, you exert a threatening presence over the nation's police force. (Unless you're a member of said force, in which case they may be willing to utilize you as a Daywalker.)
Be as polite and straightforward as possible when police officers are kicking the shit out of you. (Additionally, try to avoid bleeding on anyone's boots. You will pick up a second charge for assault on an officer of the peace.) 
BONUS — Immediately submit to any search or seizure, without question, no matter how unreasonable. Failure to do so will result in felony charges for resisting arrest, giving the police immediate license to kick the shit out of you. Remember: They don't have to prove they had a reason to arrest you to arrest you for resisting arrest.
H/T: Huffington Post