It has long been our position at AATTP that while not all Tea Partiers are white, racist homophobic bigots, if you are a white, racist homophobic bigot, you're probably a member of the Tea Party. Some book also said something wise once about knowing a man by his fruits…or, in this case, knowing a tree by the rotten nuts that gather underneath.
Case in point "Sabo," an artist who calls himself "a Republican in Hollywood." Though, the way he makes it sound, he seems to imply he's the ONLY Republican in Hollywood. Speaking of the latest Bush era:
[box type="shadow"]"It was not a good time to be a Republican in Hollywood. There was no place I could go where I wasn't punched in the face by some sort of art defining who I was for being a Republican. Evil, Bigotted, Homophobic, Out of Touch, Rich, Greedy, on and on…Fuck it! I guess it's just going to have to be me, I thought. My aim as an artist is to be as dirty, ground level, and mean as any Liberal artist out there, more so if I can. Use their tactics, their methods, appeal to their audience, the young, urban , street urchins."[/box]
And how did Sabo decide to appeal to those liberal street urchins? Tupac…sort of:
Oh, and it gets better. What's Sabo's latest artistic tour de force titled? "Ted Cruz Poster." Obviously. But that's a bit less colorful than the name of the campaign that Sabo ran in 2012, titled:
Now, to be fair, Sabo's 2012 campaign didn't simply come from the ether of a warped mind. There's a certain amount of valid precedent behind it. According to Sabo, it came from something he allegedly heard uttered by two men at a California Prop 8 rally: "We f*gs are the new n***ers." Now, in a way, that is something that most gays could relate to on a certain level; the word "f*g" probably has been freely uttered in the presence of homosexuals more recently than n***er." But that's only because blatant racism went out of style in the early 1980s…blatant homophobia is only now starting to see the same scorn leveled upon it.
But Sabo wasn't interested in such esoteric philosophizing…no, for him, "F*G IS THE NEW N***ER" was always more of a celebration of rifts between what he saw as factions on the political left. He wrote on his site, that, after hearing the gay man speak his now-immortal words at the Prop 8 rally:
[box type="shadow"]"Now I don't get shocked often but that comment threw me for a loop because it's not often you hear one left wing camp attacking another and I knew exactly what he meant but just to make sure I asked him. Turns out he was gay and very unhappy with the fact that the Gay Community stood in support of 'The Black Man' for President but the Black Community didn't support the gays in their fight against PROP 8."[/box]
For a moment, let's set aside the fact that Sabo is obviously not a fan of proper grammar or punctuation; he says he's not on the left because "I can't even pretend to be that fucken stupid!!!" (Eds. note for reference: "f***in'" is spelled with an "-in," not an "-en.") Instead, let us focus on the fact that in the space of four words and a number, Sabo managed to use possibly the two most offensive words in the English language NOT to make a social statement about how society regards its minorities, but to celebrate rifts between his political rivals. (That he also managed to place the latter of the two epithets directly above Obama's campaign icon is either an incredibly Freudian "accident," or a statement on a level of subtlety that Sabo probably doesn't comprehend.)
Which brings us back to Ted Cruz.
 Of course, Ted Cruz can't be held responsible for who decides to draw a picture of him any more than any of us can. It's not as though he commissioned Sabo's work, or signed off on it afterward.
Oh.
Damn.
Yes, indeed, that's Junior Senator Ted Cruz inscribing one of Sabo's posters of him with the words:
"The fight for liberty never ends…"
Cruz then Tweeted this clever reply to Sabo's poster: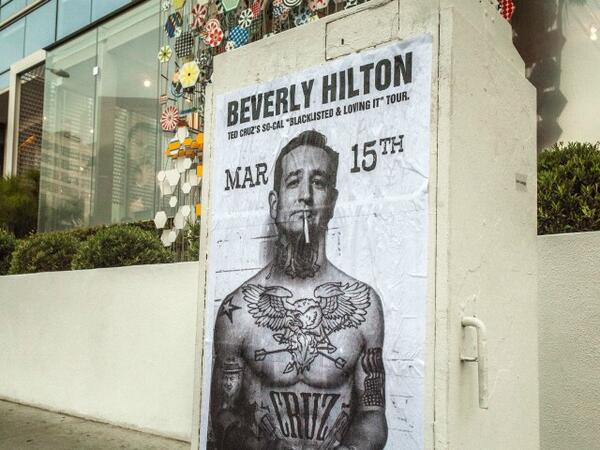 [divider]
You shall know a tree by the fruit of its nuts…and Ted Cruz, say what you will about him, has some of the biggest nuts in the game. In a way, you have to wonder if Cruz and Sabo are a sort of secret soul mates…two sides of the same misunderstood coin. In his Facebook post "The problem with Jews," Sabo calls Jews "lovely people," and then laments their inherent predisposition to "self-destruct" when times are "too good" — particularly when that self-destruction involves (sic) "VOTING FOR PEOPLE WHO'S (Ed note: "whose") DESIGNS ARE FOCUSED ON PUTTING THEIR TRIBE RIGHT BACK IN THE HELL IT BROKE FREE FROM SO MANY DECADES PAST. THEY FORGOT!!!"
So, maybe Sabo is just as smart, loving and empathetic as Conservatives get these days.
Just like Ted Cruz.
H/T: Raw Story