At 2 P.M. today, we ran a story about a woman who allegedly attempted to ram a police car at a checkpoint in front of the White House; and no sooner had the story hit the air than Arkansas TEApublican Congressman Tim Griffin found a way to pin it on Obama and the Democrats:
Minutes ago, Griffin Tweeted
"Stop the Violent rhetoric Obama, Chuck Schumer and Nancy Pelosi. #Disgusting"
This came after an earlier Tweet from Thursday, in which Griffin stated
"Is violent Democrat language resulting in real violence? Dems said 'yes' previously. Just saying."
Likely, he was referring in part to James Hoffa's "take out the Tea Party" statement from earlier in September. Which could have been construed as either literal or metaphorical. That being said…
Before the situational update, let's get a few things straight here. DEMOCRATS using "violent language?" Are you delusional, stupid, lying or all three? DEMOCRATS? OK, maybe an off-color metaphor or two, but nothing remotely resembling anything in any of the signs at the bottom of this page. And what about Palin's now infamous "target" graphic?
Nope. Not a hint of violent suggestion there.
So, yes…clearly, Republicans can't lay claim to spreading violent language or imagery. Which is all probably beside the point, since we know almost nothing about the woman or her motivations anyway. On to that.
[divider]
Initially, we and the ever-reliable news networks reported that the woman attempted to crash her car through the gates at the Capitol, then fired shots at the building. they also reported that the woman was dead. That's not entirely accurate, as we've come to expect from our national "news" outlets.
Here's the situation as it stands as of 6:30 P.M., as always faultlessly reported by CNN:
The woman was stopped at a checkpoint in Washington D.C. The checkpoint outside the White House (15th and Pennsylvania Ave) was one of many established since the Navy Yard shooting. She failed to comply with the officers, and rammed her black Infiniti G35 through the fence barricade. A high-speed chase ensued, and continued Eastward toward the Capitol Building. A police officer in pursuit struck a barricade himself; the 23-year veteran is in the hospital, having sustained minor collision injuries.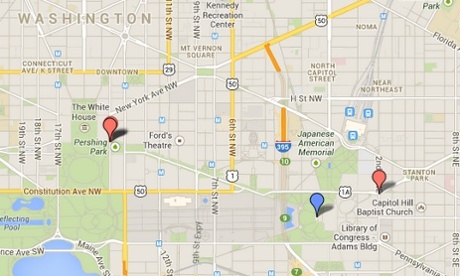 The police finally stopped the car, shooting the woman several times. She was initially reported dead at the scene, but was later spotted being hauled into an ambulance in a breathing apparatus. An officer later reported that she had been "pronounced" at the hospital, and he next of kin would be notified before any information on "the suspect" was released.
Most incredibly, the woman apparently had a BABY IN THE CAR WITH HER. What prompted her to ram the barricade and run from the police is unclear, as are her political affiliations. If any. We know that she's from Connecticut, African American, and the powerful Infiniti is not a cheap car; so it's probably fair to assume that she wasn't attacking the capitol for political reasons. It looks at the moment as though she was driving through to visit, and panicked at the last moment when confronted with the D.C. police.
During an interview, one reporter questioned the African American woman's alleged "Somali descent." It is unknown at this time whether or not Somali pirates are planning any more attacks on the White House involving babies and a $50,000 luxury sports cars.
There will certainly be much more on this story later when we learn something about the woman, and what prompted her to panic. Assuming she survives to give a statement. But at the moment, this appears to have more an act of random panic than any deliberate attempt at violence. The director of Homeland Security stated that the woman may have had mental health issues.  
But, as promised, here are a few deliberately violent images to satisfy Republican Tim Griffin.