America has never had a problem with religious institutes taking students; not only were our first universities founded in close association with churches, but the school system itself (like the prison system) draws its very structure from the monasteries of Europe.Say what you will about the secular foundations of this nation, but we've never had any serious problem with religious or parochial schools.
At least, we don't when they're honest about it, and when they're not funded by taxpayer dollars.
Charter schools are essentially private schools run on public dollars. They're generally given a bit of leniency in terms of curriculum because attendance is voluntary, and because they (are supposed to) offer a higher grade of learning than public schools. Texas-based Responsive Education Solutions (current operator of over 60 campuses in Texas and Arkansas, with 20 more coming), though, has taken that traditional leniency to an entirely new level by offering state-sponsored religious indoctrination.
ResponsiveEd's latest push has been to use computers and technology to instruct students, through an initiative referred to as "iSchool." The company's Chief Learning Director Alan Wimberly said of it:
"iSchool is really designed to get kids college and career-ready. So many students are coming into high schools today and don't really have a lot of direction once they graduate with a diploma."
That sounds good so far. Technology-based, career-ready, something that starts with a lower-case "i" — all of it sounds very contemporary. The kind of thing future engineers and doctors could benefit from.
What the student's fail to learn, though, is history — in particular, the history of the school's founder, Donald R. Howard. ResponsiveEd got its name in 2007; before that, it was known as the Eagle Project. Howard founded Eagle Project in the 1990s after he left the last curriculum he founded–Accelerated Christian Education, or ACE.
Never one to miss a change in the winds, Howard realized that private Christian Schools were on the way out, but lying was doing just fine. He told the Wall Street Journal in 1998:
"Take the Ten Commandments – you can rework those as a success principle by rewording them. We will call it truth, we will call it principles, we will call it values. We will not call it religion."
[divider]
In iSchool's biology curricula, hidden among completely legitimate points regarding cell theory, homeostasis and asexual reproduction (the holiest kind), we find gems like these:
Explain the areas of evidence for evolution
"Evolutionary theory" repeated about 20 times
Describe the theories concerning the origins of life
Discuss theories of human development
Describe controversies regarding evolution
It also attempts to disguise the story of Noah's Ark as a legitimate-sounding "theory" called "Catastrophism." Which is clearly code for "Creationism." Amazingly, the biology book treats "Catastrophism" with equal or greater weight (and certainly with tons greater reverence) than evolution. The mere fact that it mentions "theories (plural) of human development" is in itself telling, since at present there really ARE no mainstream theories of human development that aren't either evolution or taught in a church.
Of course, we might say, it probably doesn't hurt to QUESTION any theory or present any others, since (as the book pointedly observes) science has been wrong before. And there are gaps in the fossil record lasting longer than five minutes, which is enough to prove conclusively that "God did it." Biology 1099 makes no secret of its derision toward so-called scientists and their knowing of things:
 Darwinism claims that humans gradually and mysteriously evolved from non-living materials. Some critics humorously claim that evolution proposes a philosophy of "from goo to you by way of the zoo." […]

Evolutionists insist that their theory must be right and that missing fossil evidence is merely the result of a flawed fossil record; the catastrophists insist that evolutionists have not exercised the scientific method of discovery and therefore have little real scientific evidence to prove their theory.

Many other historical blunders of science could be mentioned. What we need to keep in mind is that scientists are human beings. The assumption that they are completely objective, error-free, impartial, "cold machines" dressed in white coats is, of course, absurd. Like everyone else, scientists are influenced by prejudice and preconceived ideas. You should also remember that just because most people believe a particular thing does not necessarily make it true.
Actually, book, in "science," general consensus is sort of the basis that we operate on when there's enough evidence to support a claim. This is one of the many ways in which the ACE textbook that iSchools use undermine the very concept of scientific study. Of course, failing any actual logic, there's always that old standby of ad hominem fallacies, Reductio ad Hitlerum:
"[Hitler] has written that the Aryan (German) race would be the leader in all human progress. To accomplish that goal, all "lower races" should either be enslaved or eliminated. Apparently the theory of evolution and its "survival of the fittest" philosophy had taken root in Hitler's warped mind."
So, (friend of the Pope) Hitler may have believed in something to do with evolution, so you shouldn't. Also, Hitler showered, brushed his teeth and pooped, so you shouldn't do those either. Sinner. But that's a completely valid argument; unless, of course, you also believe in Godwin's Law, which states that the first person to reference Hitler automatically loses a debate.
(Stop smiling. Hitler did it.)
What apparently isn't a matter of debate, though, is the existence of the Loch Ness monster. Yes that Loch Ness Monster. Texas charter school books (again, purchased with TAXPAYER DOLLARS) actually use the indisputable "existence" of the Loch Ness Monster as proof for Creationism. This is from the same biology "textbook":
"Are dinosaurs alive today? Scientists are becoming more convinced of their existence.

Have you heard of the 'Loch Ness Monster' in Scotland? 'Nessie,' for short has been recorded on sonar from a small submarine, described by eyewitnesses, and photographed by others. Nessie appears to be a plesiosaur.

Could a fish have developed into a dinosaur? As astonishing as it may seem, many evolutionists theorize that fish evolved into amphibians and amphibians into reptiles. This gradual change from fish to reptiles has no scientific basis. No transitional fossils have been or ever will be discovered because God created each type of fish, amphibian, and reptile as separate, unique animals. Any similarities that exist among them are due to the fact that one Master Craftsman fashioned them all."
Notice the subtle change in phrasing?
"Survival of the fittest" is a "philosophy."
Scientific objectivity is an "assumption."
Evolution is a "theory."
The "One Master Craftsman" is a "FACT."
[divider]
Some among us might be inclined to say "Who cares?" If "Responsive Education's" idea of "responding" to the community is "telling them what they already believe," then so be it. Texans will be Texans. You might even say "what's the harm," if they're as equally prepared for the rest of life as anyone else would have been. They promise "career and college preparation," and if they deliver, then let them think what they want.
But that's misguided for a few reasons.
Charter schools claim that teaching Creationism along side Evolution is just offering a "well-rounded" world view, but it's anything but. A "well-rounded world view" would put equal weight on other creation stories from India, the Vikings, Australian Aborigines, Native Americans, Egyptians and Babylonians. The ACE approach isn't a well-rounded world view — it's a glaring bias toward Judeo-Christian creation mythology.
Private and parochial schools are voluntary, and they should be. But this practice of smuggling religion into science, presenting religious mythology as a viable alternative to evolution next to discussion of cellular mitosis and halobacteria is as deceptive as can be imagined. Howard himself made the attempt at deception clear when he himself told the Wall Street Journal "Take the Ten Commandments – you can rework those as a success principle by rewording them…we will not call it religion."
For a people who claim to revere the Constitution, who declare the second amendment as the Holy Writ to uphold it, you'd think Texans would be a little more upset about the unconstitutional funding of parochial schools and religious teaching with public funds. Private schools are expensive, and a lot of religious people are poor; these religious charter schools indoctrinate the poor by unconstitutionally using public funds for religious instruction.
From Adam Laats' article in "History of Education Quarterly": "According to BJU writers, the ACE and A Beka curricula failed to adequately educate their students academically or spiritually by neglecting … higher-order thinking skills." Indeed — that's what tends to happen when at some point you stop asking "why," and start accepting "God did it."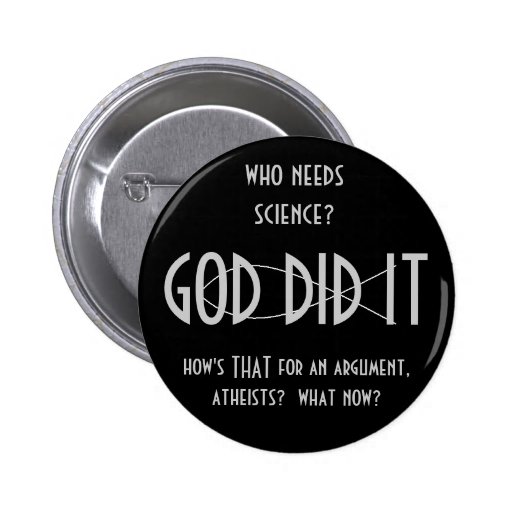 [divider]
I can't remember who said it (probably either Christopher Hitchens or Richard Dawkins) but somebody once made the observation that Isaac Newton could have answered every question in the universe if he hadn't stopped at "God did it." Because as brilliant as he was, Newton ultimately got to a point where he was satisfied with his answers. He came up with his laws, created physics as we know it, and then stopped asking "why?" Because God did it.
Personally, I don't care what people want to believe if it makes them happy, though I lament all of the potential greatness that the human race has burned in holy fire. All of the wonderful things we could have done had our "solutions" to problems not been prayer, rain dances, human sacrifice or "God did it." I also detest the hypocrisy in those who say they teach HOW to think, but have long since crossed the line into indoctrination…teaching WHAT to think.
But most of all, I LOATHE Alex Jones Texans who wave AR-15s in the air while schools get shot up (the next day), screaming about their constitutional rights, while they send their kids to publicly funded schools that are, by their very natures, blatantly unconstitutional.