Hindus smoke cannabis as a paean to the goddess Shiva, who is said to have given it to man after resting in the shade of a particularly tall plant. Practitioners of tantrism ritually partake of datura seeds, and Kabbalistic Jews mixed dautra with opium to create a "meditative" drink called Avicenna. Jesus had his wine, Native Americans had peyote and the Oracle of Delphi had her "Vapors of Apollo." And American Protestants… well…METH, motherF***ER!!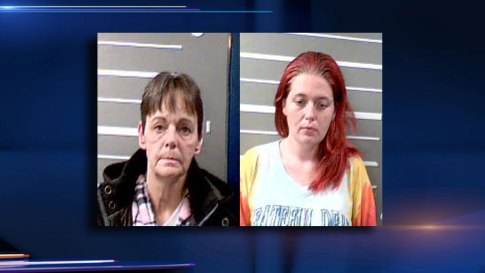 The two ladies in the picture above are 53-year-old Judith L. Hemken and 26-year-old Tiffany L. Burton aren't just fans of unconventional attire and hair color — they're also adepts of an age-old ritual called "cooking meth." Particularly the latest variety, a nation-sweeping craze called "shake and bake" that requires little more than some Sudafed, a couple of lithium batteries, some household chemicals and a two-liter soda bottle to mix them in. Shake for 20 minutes (pretty easy when you're a tweaker waiting on your meth), strain through a coffee filter, and voila — it's shake 'n bake, and you helped!
Apart from being very cheap to make, and a quick way to multiply the investment six or seven times over upon sale, "shake" has exploded in popularity not only because it's less like to…well…explode than other forms of meth, but also because it takes almost no time at all to set up a fully portable and easily disposable cookery using materials available from any dumpster. Which is the tweaker's natural environment anyway.
After procuring the requisite box(es) of Sudafed, everything else is pretty easy to come by…everything, that is, except for a place to cook the meth where you won't be disturbed by invisible helicopters and whispering tree-monkey spies working for the CIA.
Judy and Tiff thought they'd found their sanctuary in the sanctuary of Waveland Hillsboro Presbyterian Church, an evangelical house of worship in the sleepy little Southern Illinois town of Hillsboro, about 65 miles northeast of St. Louis, Missouri. But, of course, neither one of them felt in the slightest bit sleepy — bit difficult when you're impatiently waiting on your daily dose of WAKE THE F**K UP!!
But a church member caught the duo at worship of Lithium Jesus, and they scampered off, as all tweakers do, like certain species of household beetle when the kitchen light is switched on. Reports indicate that they left at least some (perhaps all) of their chemical menagerie at the scene. The church member called police, giving them the vehicle description.
The two were apprehended down the road when police identified the vehicle and matched their descriptions with the caller's. As officials cleaned up at the scene, a small fire broke out, likely a result of the flammable gases that build up in a shake bottle if left unattended for long enough. Fortunately, the fire was extinguished, and nobody was injured by boiling, acidic meth juice exploding from the bottle — as often happens to novice practitioners of the art.
As of right now, Tiffany and Judith are being held on $100,000 and $200,000 bonds respectively. Judith's bond was higher because she was already on probation for a previous felony drug conviction barely a month before. Both face 9 to 40 years on these charges, and Judith does so in addition to the years mandated for her previous conviction and subsequent probation violation.
On the plus side, both may well end up with the opportunity to act out fan-fiction scripts for Orange is the New Black. And we hear they've got some interesting religious practices there, too.
h/t: NBC Chicago