Talking to any Teabagger is a generally infuriating experience — trying to relay anything resembling "reality" to a Teabagger is like trying to pound a wooden stake through a solid steel head. Hit that thing as hard as you want…you're only going to give yourself splinters. this is after all, the same group that says on its own web page:
"Reminiscent of Tiananmen Square where a few stood to defy tyranny and demand liberty and democracy, a few patriots stood in protest representing the American people.

"Many claim to be the founders of this movement; however, it was the brave souls of the men and women in 1773, known today as the Boston Tea Party, who dared to defy the greatest military might on earth.

"We serve as a beacon to the masses that have lost their way, a light illuminating the path to the original intentions of our Founding Fathers.
Despite comparisons to Tiananmen Square and various notions of grandeur, this has to be the most incredible self-delusion of them all:
"Many Republicans, Democrats, Libertarians, and Independents identify with the premises set forth by the Tea Party Movement"
With rhetoric like that, it's no wonder you can't convince any Teabagger that their movement is slowly fading to obscurity. That's an argument it's just impossible to win, since they have all the self-awareness of any 1995 KKK alumni screaming "Look out n*gger, the Klan's GETTING BIGGER!" they just can't accept that their grand movement is failing, and they themselves are on the cusp of becoming a shameful footnote in history. The Tea Party is America's demons made manifest, destined to be cast down into the Pit.
And sadly, they're dragging Lincoln's Grand Old Party down with them — as shown in the results of the latest Gallup poll: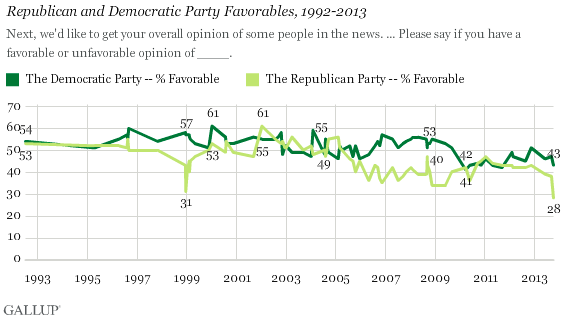 Yes, you're seeing that right — a 28% approval rating. That's the lowest rating Gallup has recorded for EITHER party since it began taking party favor polls in 1992. You'll probably notice that second drop in 1999, which was the second lowest rating recorded. That was the perception of Republicans immediately following the House vote to impeach Clinton in December of 1998.
You'll note that that was immediately after the 1998 mid-terms, which was the first time since 1934 that the president's party gained seats in a mid-term election. Echoes of the past, for certain; with mid-terms fast approaching and Republicans losing seats in polls by the day, we're almost certain to see a fully Democratic government after the 2014 elections. It's all but a lock at this point.
Despite Republican efforts to shirk responsibility, the American public just isn't buying Boehner's excuses. We've all seen the footage of the Tea Party controlled Republican Congress smiling and near dancing in the streets after the shutdown. Their priorities are crystal clear at this point.
It's hard to say whether or not the Republican party will ever recover from this hit. They certainly did after 1998, and George Bush made it to office a mere two years later. Then again, 1998 was just a PR nightmare…that was before the Tea Party rotted the GOP to its core. That was before the GOP became permanently tea-stained as "The Party of No," "The Stupid Party," "The Koch Party" or the "Glenn Beck Party."
This may be a sign that the Republican party is in a near-permanent state of decline. Last month, 37.6% of Americans considered themselves Republican, which was the highest recorded since 2002. But those 28% approval ratings mean that it's only a matter of time before the Republican party loses something near 30% of its voter base. That'll leave only the Teabaggers calling themselves solidly Republican; expect to see plenty of Independents and Democrats register this coming year, if only to get away from the Tea Party and everything now associated with it.
[divider]
You know, personally, I actually feel kind of saddened by the idea of the GOP disappearing. My mother (a local union president) was Bill Clinton's campaign organizer in Marion County, Florida, and I met Clinton…shook his hand and talked to him three times as a kid. I'm not going to lie…at 11 years old, hearing your mother say "Ricky, I want you to meet the next President of the United States" is definitely one of those things that makes an impact. And talking to him, shaking his hand, twice more while he was president…any wonder why I went on to write political?
Even so, I considered myself an Eisenhower Republican like my dad and grandfather. All the way up to the first time I saw George W. Bush. The writing was on the wall then…and I remembered Clinton being such a smart, nice guy compared to the clearly predatory Bush. Maybe it was genetically inevitable that I bailed from the GOP.
Don't get me wrong…I loathe the Tea Party with every fiber of my being for what it's done to this country. But I think I hate it almost as much because of what it's done to my father and grandfather's GOP. If I could write it, this would be the GOP's epitaph:
"Here lay the Republican Party, a lesson from history. We freed the slaves, and beat the Commies…and then we drank The Tea."