It's official: CPAC has elected Rand Paul President! In its mind anyway, which is about the only place Rand Paul has a chance of winning anything.
According a to a straw poll conducted at the gay hookup destination known as the Conservative Political Action Conference, Rand Paul has pulled out to a heavy lead to become the GOP's sacrificial lamb in a 2016 loss to Hillary Clinton. With 31 percent of the vote at CPAC, Paul absolutely crushed the second place former golden boy Ted Cruz, who carried 11 percent of the poll.
This much is an interesting shift from the end of December, when we reported on another poll conducted by Fox. That poll showed Chris Christie as the front-runner, with 16 percent, followed by Ted Cruz, Paul Ryan and Jeb Bush at 12 percent, and Rand trailing at 11 percent. Of course, that was Fox, and this is CPAC, which is a slightly different audience. Still, though, early results would seem to indicate that Ted Cruz and Chris Christie's respective falls from grace have added a few points to Rand's standings.
(Christie's next career move…driving a delivery truck back and forth over the George Washington Bridge.)
Not that Rand wouldn't do well at CPAC anyway — as the card-carrying scion of the Koch Brothers' once-upon-a-time vice-presidential nomination Ron Paul, Rand's brand of pseudointellectual delivery has made him an ideal mouthpiece for delivering the two richest men in America's twisted agenda to a gullible audience.
Time and time again, we've reported on Rand's plagiarism…one instance of which got him canned from his regular column at the Washington Times. But that was just one among many thousands of lesser known instances of Paul outsourcing his thoughts; as he's proven time and again, Rand has never heart a Heritage Foundation, CATO Institute or FreedomWorks idea he wasn't willing to repeat. Or, to put it in religious terms that our CPAC audience can understand:
If the Koch Brothers are the Father and the Holy Ghost, and Ron Paul is the Son, then Rand Paul is the Voice of God…the GOP's own Metatron.
(Rand Paul will cut your heart out with a SPOON…ladies…)
Of course, it's not as though any of this really matters. As we said back in December, the GOP is so splintered at this point that they wouldn't unite behind a single candidate if that candidate were Buddy Jesus himself. Just the fact that Rand Paul dominated CPAC, and was in fifth place in a national poll three months ago tells you what kind of cohesiveness defines the GOP today. And cohesiveness is what it takes if you want to win a national election.
Put simply, it's like this as a best-case scenario:
31% of Republican + Independents standing with Rand is less than 70% of Dems supporting Hillary. And she hasn't even said she'd run yet.
But, you never know…maybe the Republicans, in the next two years, will finally capture that minority vote they've been after, and pick up the 75 million voters that Ann Coulter lamented in her screed on "the browning of America."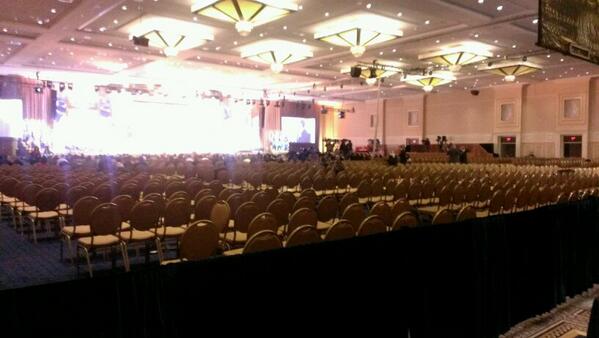 (Or…maybe not.)