Define "salt in the wound." Oh, Rachael — isn't it bad enough that Newt Gingrich couldn't even secure the nomination to be First Loser of the 2012 presidential race? Isn't it a hard enough fate that the last time anyone took him seriously, he was being shown up and embarrassed by a Democratic president? Do we really have to rub his nose in this one, too? No, Rachel, we really don't have to. But…hell. Why not?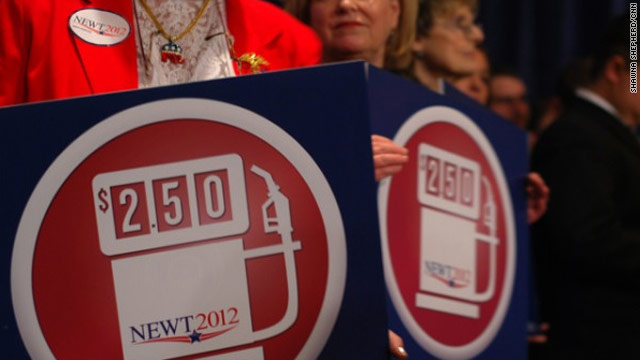 For those who haven't walked by a gas station in the last six months, gas prices have been dropping precipitously. It's no secret that United States oil consumption dropped precipitously during the Bush Recession, as is the case in all recessions. But even excepting that, oil consumption has been on a steady downward trend since it peaked in 2005. And even after coming back up slightly in 2010, the downward trend in consumption has continued. and it's accelerating, due largely to ever-tightening fuel economy standards.
Combined with massive domestic energy initiates that went into effect in 2010 (including oil and gas, but also including green energy sources), the result has been a staggering drop in the price of oil worldwide. With the U.S. en route to full energy independence by about 2025, soon to be eclipsed by China in imported oil, the Middle East has put on a fire sale trying to get rid of stuff that its (for the moment) biggest customer no longer wants.
Fuel prices reached record highs in 2008, following a steep climb that began in 2002. Effectively, almost the entire Bush presidency.
But, as of this week, gas is officially back below $2.50 a gallon — the lowest it's held since 2004. And that figure is even more incredible when adjusted for inflation; the adjusted price now is about the same as it was from 1946 to 1960. And it's only getting lower.
That is a pretty amazing thing…and for sure, Newt Gingrich knew when he ran for the Republican bid in 2011 that getting gas prices back down to that mark would be a near-miracle. A miracle he promised he could deliver. A miracle SO miraculous that he all but built his entire campaign on it, swearing that our socialist Marxist Democrat president would double or even triple the price of fuel.
But, unfortunately for Newt, Obama delivered on his promises. "His" being Newt's own promise of $2.50 a gallon gas. Lower, in fact — the national average is $2.45 a gallon today, and is still steadily dropping. If gas hits $2 a gallon (and there's not much reason to think it won't at this rate), it'll be the lowest since the musclecar era of the 1960s. Which wasn't the cheapest gas has ever been.
No, the cheapest gas has ever been, adjusted for inflation, was during the administration of the LAST Democrat to embarrass Newt Gingrich. A man who, in this game, is shaping up to be Barack Obama's only real competition. We'll see who wins this title fight by 2016. We won't know until then. But one thing we do know for certain:
No matter who wins, it won't be the guy who couldn't get elected to run as First Loser.