This is how the Revolution happens: Jesus Christ declares himself an atheist. Burning oil stocks cause Hell to freeze over, and the First Family of Petroleum declares "PEACE OUT" to the industry it created. Yes, you've officially heard: J.D. Rockefeller is out of the oil business. And investing in solar.
For those unfamiliar with the name, John Delbert Rockefeller was the world's first Oil Tycoon. In the heat of the Industrial Revolution, J.D. Rockefeller was the man supplying the oil that kept America warm. At the time, petroleum oil was almost worthless, until J.D. started refining it into heating oil. This very cheap petroleum-derived oil came to replace the expensive whale oil then used in lamps, and very quickly the world was up and running on pre-killed dinosaur juice. In a very real way, then, J.D. created the petroleum industry. And that wasn't the end of it.
One of the byproducts of his heating oil operation was a huge quantity of clear, highly volatile and explosive liquid. This "gasoline" was worse than worthless — it was a hazardous industrial waste. And J.D. got rid of by filling tanker trains with it, sending them across the country and (reportedly) accidentally "leaking" all of it out into the ditches next to the tracks. Yes, our railways were quite flammable for a little while. J.D., it seemed, would never find a use for it.
Until, that is, some German inventors found a way to make a four-stroke diesel engine run on the stuff. Diesel/heating oil was still fairly pricey at the time, at least compared to the "almost nothing" gasoline cost. And these new engines and the horseless carriage they were attached to drank J.D.'s industrial waste by the gallon. It was then that John began sending out checks, underwriting the development and popularity of the gasoline engine, and populating the nation with storage tanks to hold the gasoline he'd previously been dumping on the tracks. This super-cheap and readily available fuel ultimately killed off development of steam engines, electric cars, hydrogen fuel cells, and even the world's first production hybrid — the 1905 Porsche Mixte.
For a century of constant war, the world would run on the industry J.D. created…until a bunch of hippie scientists had to go and ruin all the fun.
[divider]
The Wallace Global Fund was established in 1995 by the son of Franklin Delano Roosevelt's Secretary of Agriculture, Henry A. Wallace. The Fund has been fighting for social change with large grants and campaigns since then, and its latest one appears to have all the makings of an FDR-style revolution.
The "Divest-Invest" Effort for Fuel Change is the Wallace Group's latest and greatest success story. It began a few years ago, as a means to convince wealthy investors to drop their holdings in Fossil Fuels, and re-invest in alternative energies. Traditionally, fossil fuels have been seen as the "safe" investment for the uber-wealthy, and a bulwark to strengthen risky portfolios. For that reason, investors have been loathe to drop it.
But Divest-Invest is no hippy-dippy group of idealists living in a Beatles almbum — they get the reality of investment. And they've performed plenty of analysis to prove it. In response to a Washington Post article titles "For Institutional Investors, No Ditching (HA!) Fossil Fuels Yet."
"First is the fallacy that fossil divestment hurts returns: As executive director of Wallace Global Fund-an endowed DC institution that has divested from fossil fuels-I can tell you we easily outperformed our benchmark last year. This is fully in line with independent studies, like one from Aperio Group, that show divestment neither increases portfolio risk nor undercuts performance. To the contrary, divesting now avoids future risk that fossil stocks are greatly overvalued."
The WaPo counters with "Well, it won't make a DIFFERENCE anyway! Fossil fuels are ALWAYS stable stocks! Hippie!"
Unfortunately, reality doesn't seem to concur. Here are today's three-year summaries of some of the bigger players in the fossil fuel industry. BP and Exxon are obviously oil, Peabody is coal, and Athabasca is a large Tar Sands company. See if you detect a trend:
Pay no attention to the stocks behind the curtain. Exxon, by the way, started out as part of Rockefeller's Standard Oil company before it was forcibly broken off under the Sherman Antitrust Act.
Those are some of the bigger players, though some others (Conoco-Phillips) are still doing fairly well. For now. But those bright red figures from today's exchange aren't alone today…and possibly because of news from the family that started it all.
Today, the Rockefeller family has announced that its out of the oil game — the biggest investor among at least 50 who have pledged to pull $50 Billion in investments out of the oil industry, and put them back into alternative energy. According to the Foundation President Stephen Heintz:
"It's a snowballing movement…I'm convinced that if he were alive today, [J.D.] would be looking into the future and investing in clean energy technology."
That might be so. At least you don't have to dump extra sunlight into ditches.
Of course, the Rockefeller family has had a pretty impressive history of supporting a better world…at least since Grandpa stopped dumping stuff in ditches. Back in the 1950s, the Rockefeller Foundation partnered with Ford (scion of another great philanthropist and social activist) to start the Green Revolution, a re-creation of the agriculture business. Since then, it's worked with the Gates Foundation in Africa.
Then again, Rockefeller's Foundation also helped to fund Nazi racial studies at the Kaiser-Wilhelm Institute of Anthropology, Human Heredity and Eugenics all the way up until 1939. Which means the Rockefellers directly funded Dr. Mengele's boiling little Jewish boys alive for easier vivisection. Yup…that happened.
But Andrew Carnagie did the same thing, and even Henry Ford was anti-Semitic. It was a popular thing then. Kind of like clean energy is now. Hey, times will change…could be they're planning on sending the Kochs to Auschwitz. That would be appropriate on a lot of levels.
Yes, the Rockefellers have had a bit of a checkered past. So, maybe we shouldn't be too quick to buy into the notion that they're only divesting out of the kindness and goodness of their hearts. Perhaps they're just looking at the same stock charts we are. Fund trustee Stephen Rockefeller said:
"We see this as having both a moral and an economic dimension."
Perhaps we've reached a point where the "right thing" has become the "practical thing." Who knows? As F. Scott Fitzgerald once said, the very wealthy are different from you and me. So no telling what they're really thinking. But one thing's for sure:
When the Jesus Christ of Oil becomes an atheist, it's time to start reexamining your faith in the industry.
Or, as J.D. himself might have put it:
"Die Revolution ist HAUTE!"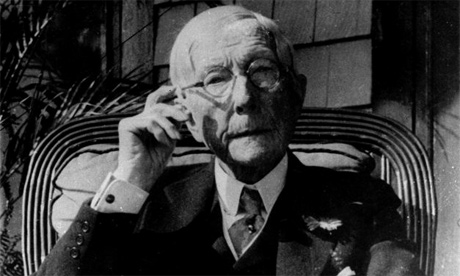 PS, Just as an extra bit of stick-in-the-eye to evil: Russia's currency, the Ruble, has been tumbling like a homophobic brick in the last month or so. Much of that has to do with disinvestment from Russia's national oil company Lukoil, which has been supplying much of Europe's dino-fuel for years. Those dropping Russian (and Chinese) oil investments include the UK and U.S., particularly following the sanctions Putin so righteously earned following his Ukraine invasion. The Ruble is now at a record low against the Euro.