The race for Mitch McConnell's senate seat is one of the most hotly contested and important in the country. Right now, polls show McConnell in a virtual dead heat with Democrat Alison Grimes.
Control of the senate is, at this point, teetering on a knife edge, and the outcome of this race may decide it. That much is no secret — total spending on this race is expected to exceed $100 million, making it potentially the most expensive senate race in history. And expensive senate races require donors with very deep pockets.
Of course, no donors have deeper pockets than the Koch Brothers, who two months ago threw a private shindig for McConnell. The guest list was almost exclusively conservative millionaires and billionaires, and group was called (somehow with utterly no trace of irony) "American Courage: Our Commitment to a Free Society."
In the Q&A period following his June 15th session titled "Free Speech: Defending the First Amendment," Mitch goes to some length discussing the pre-eminent "free speech" issue of the billionaires' generation; namely, the ability to bribe politicians with unlimited amounts of money. He also lays out his plan for obstruction:
"So in the House and Senate, we own the budget. So what does that mean? That means that we can pass the spending bill. And I assure you that in the spending bill, we will be pushing back against this bureaucracy by doing what's called placing riders in the bill. No money can be spent to do this or to do that. We're going to go after them on healthcare, on financial services, on the Environmental Protection Agency, across the board…All across the federal government, we're going to go after it."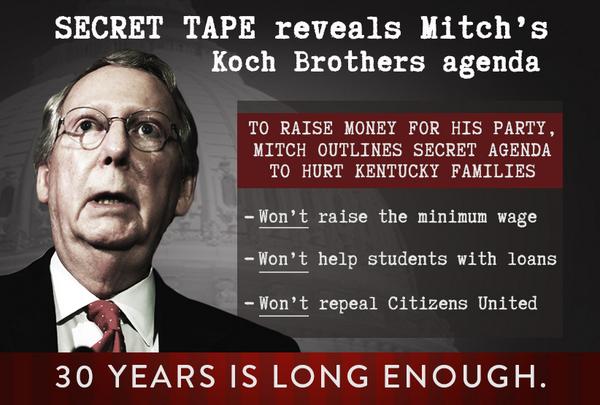 While much of McConnell's speech was standard stump fare, and this "rider" plan was later articulated during a Politico interview, the interesting thing here is what didn't make it into the Politico interview. That being "going after [Democrats] on financial services."
This is, in no uncertain terms, code-speak for "gutting Dodd-Frank," one of the few remaining regulations keeping Wall Street from doing anything it wants, any time it wants. And you can bet that played very well with this particular audience; just a bit odd he didn't mention it anywhere else.
But why?
Possibly because McConnell knows good and well that the Tea Party base he's relying on to put him in office hates Wall Street almost as much as we do. Be a shame for Mitch if his Kentucky Tea Party friends found out how hard he's been shilling for big, elitist New York money…the primary source of his campaign funds.
Let's make sure they do. 
To clarify on that "rider" bit: Mitch's plan for obstruction is to attach to any bill that comes through provisions that he knows will never pass. So, every time a spending bill comes through to fund something Democrats are in favor of, his plan is to attach provisions specifying billion-dollar pay raises for congress, immediate resignation of the president, and sharks with frickin' laser beams on their heads. To be fair, a good plan if you're doing your best to obstruct everything Congress does.
Then again…so what? And that would be different from the last four years how exactly?
As useless as America's Congress has been since the Kochs' Tea Party got involved, we might as well just dissolve the whole branch of government, and replace it with chimpanzees throwing Ouija boards at Jello molds of Thomas Jefferson.
You can hear highlights of McConnell's speech in the Youtube videos below.
H/T:
The Nation