America's law enforcement personnel reached a new milestone last year. As of December 2013, America's local military apparatus had officially killed more of its own citizens in the last ten years than the Iraq War. And by a pretty good margin, too: around 5,000 domestic deaths by terrorist-with-badge to 4,489 deaths by terrorist-with-turban. The 10 months since then have claimed about another 500 — which means that as of right now, American cops are officially more lethal than Ebola.
Something has to be done to stem the epidemic of indiscriminate force; and short of equipping police with pointy sticks, the most effective thing is likely accountability. Or so believes a Silicon Valley startup company called Yardarm Technologies.
The quest to utilize electronics for gun safety is decades old; we did a story recently on a 17-year-old named Kai Kloefer who used a cellphone-grade fingerprint scanner to create a nearly foolproof electronic safety for handguns. Kai's device read the user's fingerprint in milliseconds, releasing the gun's safety and allowing it to be fired only by the owner.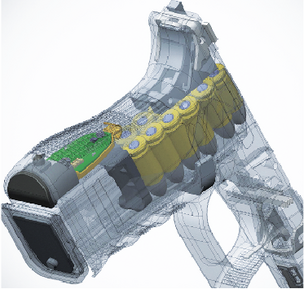 Yardarm's idea is a little different. Rather than keeping the gun from firing, Yardarm's USB flash drive-sized device simply fits inside the gun's "backstrap" (the removable rear part of the grip), and hides away inside when the backstrap is screwed back on. It doesn't mechanically interface with the gun at all.
What it does do is record the gun's exact position, when it's fired (down to the millisecond) and the direction that it's fired. Said Jim Schaff, Yardarm's marketing VP:
"It's the same kind of sensor your iPhone uses to change the screen from vertical to horizontal when you turn the phone to the side. But ours is way more powerful."
It's actually two sensors in one, and works using most of the same principles as a cell phone. The sensor Schaff refers to is an "accelerometer," which uses piezoelectric load cells wrapped around a small weight to detect motion and orientation. It also connects wirelessly to the "Yardarm Cloud" via an extended-range connection to a smartphone, laptop, tablet, or to the patrol car's computer-aided dispatch (CAD) or Real-Time Crime Center (RTCC) dashboard.
Maybe even more importantly, it also has a GPS positioning sensor. When combined with the accelerometer and wireless connection capabilities, that allows the sensor to:
Record when and where the gun is holstered and unholstered.
Record the exact time and location of each shot fired.
Determine the direction and up/down trajectory of the gun in real time
Automatically notify dispatch and call for backup when the weapon is drawn
Allow commanding officers to precisely monitor where the gun is and where it's pointed in real-time from a computer screen back at base.
Obviously, those are all great from the civilian perspective — computer's aren't members of The Fraternity of Blue, nor are they paid employees of the county that might be held financially liable for wrongful death. Yes, looking at you, Ferguson. If this device had been in Darren Wilson's gun three months ago, he'd have been convicted six weeks ago. Actually, that's not true. He probably wouldn't have been convicted…because there's a good chance Michael Brown would still be alive. In jail, maybe. But alive.
Granted, accountability is kind of a tough sell to police departments that rely entirely on a lack of accountability. But here are two easier sells for our brave boys in blue:
Because it automatically calls for backup when the weapon is unholstered, the officer doesn't have to. That prevents "every officer's nightmare scenario," in which they're pinned down with no way to call for help. Note the subtle difference from our nightmare scenario…which usually starts after they call for backup.
The gun's and network's ability to track orientation in real-time allows commanders to precisely vector in assistance from other directions, without relying on vague descriptions like "He's a little ways back from the wooden fence." By simply keeping his weapon trained on the suspect, the officer tells his commander exactly where the suspect is.
And that could have even broader implications down the road, in a tactical sense. Because the whole system runs through Yardarm's "cloud" network, there's no reason that officers in the field couldn't receive real-time information from other officers' guns.
You could imagine a scenario in which officers in the near future might use something like a Google Glass headset during dangerous situations. The headset might display a 3-D map with real-time trajectory lines from other officers' weapons. So, say you're sneaking through a house, looking to take down three or four hostage-takers.
If the officers outside have any line of sight on any or all of them, or even know about where they are if they're behind cover, they can keep their weapons trained on the hostage-taker's location. If you're sneaking through the house, you can effectively use the other officers' eyes to keep a constant fix on the perps' positions around you without having to waste time and make noise communicating with those outside.
That would be an incredibly useful tool for police teams, and might help to prevent a few civilian deaths during any one of the more than 40,000 military-style raids police now perform each and every year. Not least by keeping them from invading the wrong house…which seems to be kind of a running theme lately.
Will Yardarm's sensor solve the problem of police brutality? Probably not. At present, even if all police had were pointy sticks, we'd just end up with 500 eye-pokings a year instead of shootings. But any degree of actual accountability would give police a second thought before drawing their weapons on every soccer mom they pull over for speeding.
Let fear balance fear, we say. They shoot us because they fear for their lives; let them fear for their jobs and freedom beforehand. That may not solve the problem…but it would at least make American police slightly less lethal than war or Ebola.
You gotta start somewhere.