Billionaire Jeff Bezos is misunderstood. Sure the Amazon founder and Bilderberg Business Council member might be a Libertarian, and he might have been name The World's Worst Boss ("representing the inhumanity of promoting the American corporate model") by the International Trade Union Confederation. But, at the end of the day, he's just a guy looking to give something back to the world which has given him — from which he has taken — so much.
Now, Bezos also seems happy to use an op-ed piece (not actually written by him, of course) in his recently acquired newspaper, The Washington Post, to drum his military benefactors' budgets up to infinity and beyond.
Wait a minute…What does Amazon have to do with the Pentagon? It turns out Bezos has other fish to fry.
Jeff Bezos' unlikely partnership with the Pentagon… and Richard Branson.
In the year 2000 — incidentally, about three years after the film Contact debuted — Bezos started a company called Blue Origin. Similar to Richard Branson's Virgin Galactic, the enigmatic Blue Origin's purpose was to make manned spaceflight no more expensive than a typical airplane ticket. Bezos, an outspoken environmentalist, sees a future in which most of mankind lives off-planet, and Planet Earth itself would be treated as a kind of park. And he's quite serious about it — serious enough to have invested over $500 million of his own money into the project so far.
But, unfortunately, even Bezos' personal $37 Billion fortune can't foot the bill to start shipping people off the planet. For that, he needs help; and he found allies in Branson and the United States' military-industrial complex.
Here's a brief brief timeline of Bezo's and Branson's joint Pentagon-taxpayer-funded project:
2010 — NASA commits $26 million to Blue Origin spaceplane research.
2011 — Amazon's sales skyrocket, adding $6.5 billion to Bezos' portfolio, and giving him the extra funds needed to seriously pursue his spacefaring adventure.
September 2011 — Blue Origins test-flies and crashes a spaceplane prototype.
2011 and 2012 — Bezos made mamber of Bilderberg Group Business council
July, 2013 — Bezos and Branson announce joint Pentagon-funded effort (via DARPA) XS-1 Spaceplane, designed to be carried to the edge of space piggyback on a hypersonic drone and pushed into orbit by low-cost rocket motors.
August 2013 — Bezos submits bid to lease launch complex 39A at the Kennedy Space Center in Florida.
August 5th, 2013 — Bezos buys Washington Post for $250 million
After 2013 — Washington Post begins pushing for more military spending and "modernization" of military, funds for which will go through the Pentagon and DARPA.
And that brings us to today, as well as the inspiration for this particular article: A September 3rd editorial published in Bezos' The Washington Post all about…you guessed it…increasing military spending.
But of course not, as it turns out, military spending for our former soldiers.
[divider]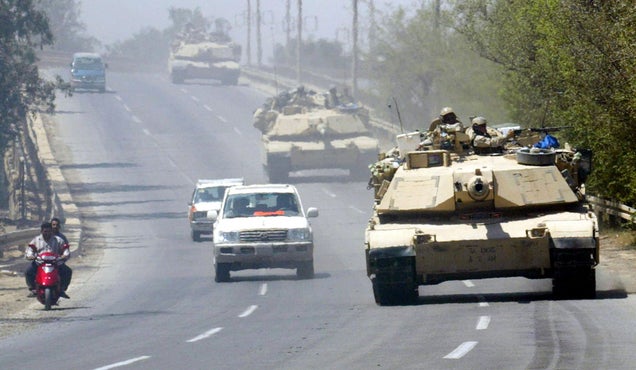 The Washington Post is no stranger to war- and fear-mongering to the Right, or to screaming "TERROR!" in any crowded movie theater available. So, in some ways, this opinion piece by Conservative neo-libertarian hack Charles Lane is just par for Barry Soetero's golf course.
More money for the Pentagon means more funding for Bezos' venture.
But, now knowing what we do about his boss Jeff Bezos's interplanetary plans and contracts with the Pentagon for same, it's hard not to detect a bit of…call it…calculation in Lane's fearmongering. Especially when you bear in mind that Lane's boss is something of a Ron-Paul-Bill-Maher Libertarian, and no great fan of the military or war. A few representative excerpts:
Undoubtedly the Europeans must shoulder their fair share of the defense burden if they are simultaneously to resist Vladi­mir Putin's new aggressiveness and to persuade the United States, which currently spends $3 on defense for every $1 its NATO allies spend, to continue supporting them.

Yet the events in Ukraine — and in northern Iraq, where the Islamic State is slaughtering its way to a "caliphate" — should force a realistic assessment of the United States' own defense budgets.

As the United States' defense budget shrinks relative to its economy, more and more of it is destined to purposes that have little, or nothing, to do with deterring or, if necessary, winning wars in the here and now.
OK…problem stated. "Spend more on military hardware, OR WE'RE ALL GONNA DIE!!!" And Lane's solution? Cut military benefits and pensions for retired soldiers.
The CBO reported in January that the Defense Department's health-care costs will rise from $49 billion in 2014 to $70 billion in 2028 (in inflation-adjusted dollars). That is an increase of about 40 percent in real terms; as a result, health care will account for 11 percent of the defense budget in 2028, up from an already astounding 9 percent today.

The mainspring of this spending growth, the CBO found, is the increasingly generous benefits Congress has bestowed on military retirees — not the cost of taking care of active-duty servicemembers and their families.

As the CBO put the matter, "In a fiscal climate in which the department's overall budget can increase only slowly, continued rapid growth in military health care costs could force DoD to reduce spending in other areas, such as force structure, military readiness, and weapons modernization.

The truth is that military retiree health care and pensions are badly in need of reform…Meanwhile, we borrow [money]. Putin's aggression, and the rise of the Islamic State, test more than the democratic West's ability to raise and spend defense dollars.
[divider]
All right, then.
Just so you know, this article started out as a careful debunking of America's "need to modernize" its military, buy new hardware or hire more soldiers. But, since there's a more important point coming, we'll just bullet-point  (pun intended) that argument in the name of due process.
There are currently about 32 active aircraft carriers in the world — the United States owns 20 of them. The UK, Spain and Italy own two carriers. Brazil, China, France, India, Thailand and Russia each own one.
In 2013, Congress spent half a billion dollars on improved Abrams tanks that the Army explicitly said it didn't need, owing to the fact that they already had about 2,400 tanks sitting around doing nothing. And most of those were the improved Abrams that Congress insisted they needed more of.
After the War in Aghanistan, the military already has so much useless crap that its literally giving it away to local police forces nationwide, leading to an increasing militarization of domestic police. An MRAP in Ferguson, MO, or guarding a Pumpkin Festival in New Hampshire? Yes, please!
OK, those are the bullet points, and the list could go on forever. We hope you found them amusing, poignant and well articulated.
Earth to Jeff Bezos! An open letter:
But there's a bigger point to be made here, in particular to WAPO's owner, Jeff "Rocketman" Bezos.
Dear Jeff,
Hey, man — quick word about your space program. We'll preface this by saying three things.
First: We like you. Sincerely. Of all the super-billionaires whose names we know, you're definitely in the top three.
Second: That is one of the most awesome ideas we've ever heard of. Blue Origins, your vision and love for the Earth, along with Richard Branson's — we commend you on all of them. Super-awesome, and we genuinely hope it works out. And we're certainly not the only ones. Even if your and the Bilderberg Group's end goal is just to ship most of us off to Alpha Centauri so you can have the Earth to yourselves (take note, Alex Jones!), we'll at least give you credit for thinking big and caring about the planet. Yeah, that may be kind of evil, but at least it's cool. We can argue about the tickets later.
Third: Kudos on twisting America's biggest industry around from being a tool of war and death into a backdoor for space exploration. God knows, with these 'Baggers around, NASA's never getting any funding, ever again. We'd PREFER if it were NASA doing the job, but maybe a little outsourcing won't hurt in this case. If you can use the Washington Post to fearmonger these idiots into accidentally funding space exploration, then we probably ought to shut up and let you get to it.
At the very least, it's a brilliant troll.
BUT…
You need to keep your employees in check.
We know you're taking the long view of things, as evidenced by the $42 million, 10,000-year "Long View Clock" you paid to have built in the middle of a mountain in Texas. (Epic, BTW.) We also know you're no great fan of the military itself.
But please try to bear in mind that to we little people, we mere Earthlings of finite lives and resources…things like a $20 co-pay on blood pressure medication matter. Being able to pay off our mortgages matters. Feeding our families and putting gas in our cars matter. Retiring after a lifetime of service to our country knowing we won't have to die cold and alone in the street — that matters.
So, please, man, what we're asking is this:
Remember that as of now, you, like everyone else here, are still a citizen of this planet and this species.
Do us a favor: Don't create a Garden of Eden for some by making a Hell on Earth for everyone else.
— RR