In 1534, while sitting in the Tower of London for the treason of not supporting Henry VIII's annulment from Catherine of Aragon, Sir Thomas More wrote a devotional called "Dialog of Comfort Against Tribulation." Of the many words written in the Dialog, these few went on to the greatest fame: (Paraphrased) "A drowning man will grasp at anything that floats, including straws."
In its moment of tribulation following a failed takeover of the government last year, the GOP has done its fair share of grasping at straws. Originally, the notion of Obamacare costing jobs was the central point, the rallying cry of all Teapublicans. According to Republican logic, massive layoffs would follow implementation of the law, as corporations had to choose between maintaining a bottom line and having employees.
For a moment, it seemed as though the drowning party had hope in the form of a life raft called the Congressional Budget Report. John Boehner was the first to wrap his arms around this bit of flotsam, Tweeting victoriously that "Pres. Obama's [healthcare law] expected to destroy 2.3 million jobs." But, as with many Tweets, Boehner and Faux News came to regret expressing that thought. Upon closer examination, Boehner's life raft was exposed as the bundle of straws it was, quickly disintegrating when it was made clear that those 2.3 million jobs would be voluntarily vacated by people who didn't need to work for healthcare anymore.
Desperately grasping at what's left of that particular raft, the GOP has shifted tack.
Sen. Roy Blunt (R-Mo.) suggested on Sunday that this, in itself, represented a moral failing on the part of lazy healthcare moochers. He said to Faux News (of course) that:
"I think any law you pass that discourages people from working can't be a good idea. Why would we wanna do that? How does that allow people to prepare for the time when they don't work?"
Sen. Ben Cardin (D-Md.) responded:
"They're in employment solely because they get health benefits … this is a voluntary choice. In some cases, these people might have two jobs because of these health benefits … now they don't need to work two full-time jobs to get their health benefits."
Blunt:
"The best face you can probably put on that is that people who don't wanna work don't have to work. Surely that's not what we wanna encourage."
Indeed. As with most GOP talking points, this one's high on emotive appeal, and low on actual fact. The Huffington Post recently reported that the vast majority of these voluntary vacations would be the result of people leaving work to go back to school or take early retirement. Worse for the Republican corporate machine is the worst-case scenario that quite a few would leave the healthcare slavery system to start their own businesses — and competition with big corporations isn't something we encourage in the "free market."
In no uncertain terms, this latest desperate grab reveals about the GOP what most of us have known all along: That they don't want us working for us — they want us working for THEM. and they sure don't want us retiring, becoming educated and, God forbid, COMPETING with them. They just want us to work for them. It doesn't matter that we labor for nothing and die without profit; work is its own reward. Freedom is work, because we are free to work. Work sets us free. Work like writing a book in prison, just to write it, teaching the world of the futility of grasping at straws. Work sets us free.
Wait — we've heard this one somewhere before…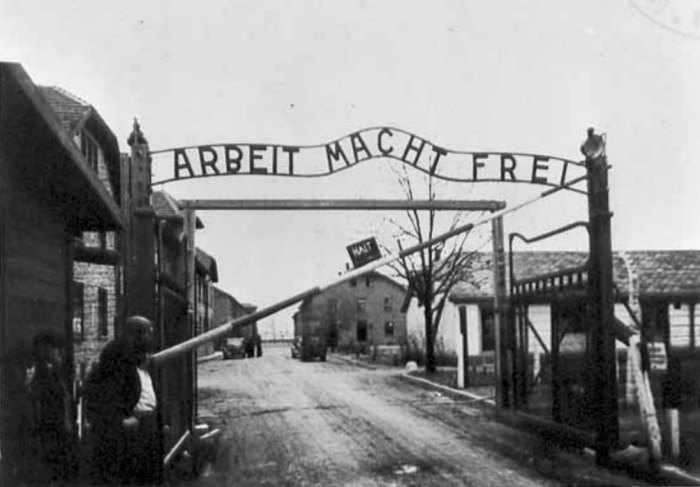 ("Work makes you free." Sign known for having been placed over the entrances to a number of Nazi concentration camps.)