At just after midnight last night, the Strozier library at Florida State University was more populated than usual. More than 300 students were still inside, burning the midnight oil and cramming for the coming exams.
Details aren't in yet, but this much we know: At about 12:20 a.m., the sound of gunshots rang through the quiet library halls. Three students were shot, and the gunman (still unnamed) was still at large in the building. FSU officials sent out an emergency message:
Campus police responded in minutes, and were guided to the gunman's location by telephone. According to the police, they found the shooter and told him to drop the weapon. Instead of doing so, he fired a shot back at them. It's unknown right now how many shots the two police officers fired; but at the end of it, the shooter lay dead.
Fortunately, his victims were not. Although injured, the three shooting victims survived with non-life-threatening wounds and a trip to the hospital.
There's no information on the shooter himself, including whether or not he was even a student. Less is known still about the motivation for the shooting spree. at the moment, it looks like something of a suicide-by-cop scenario. It's possible that the shooter didn't intend to kill his victims, which would explain why all three left with relatively minor wounds. It would also explain why the shot he reportedly fired toward the police failed to hit its mark.
More details are certain to surface later. The video below was recorded by a student taking cover on the fourth floor of the library among many others. At the time, it was unknown as to whether the shooter had been acting alone, and police we searching the building at the time.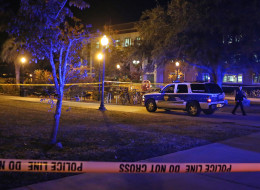 Incidentally, Florida State is the very school that was all but purchased outright by Florida's Republican Party earlier this year. The Koch Brothers long ago bought FSU's economic studies program, and now-president John Thrasher was a powerful GOP legislator before being appointed president of the university by the Kochs and Florida's Tea Party governor Rick Scott. Thrasher, a committed creationist and global warming denier, is now president of the largest research university in Florida.
Of course, none of that has anything to do with the shooting. Probably. Except that Thrasher called this an "isolated incident" in a statement afterward. And given his professed grip on reality and political unwillingness to acknowledge "isolated incidents" as representative of data points in a larger pattern…well, we'll forgive the students of FSU if they feel slightly less than comforted.