Whether they realize it or not, the Tea Party has been mortally wounded by its failed takeover of our government — not that we didn't warn them. Even after Cantor's Koch-funded Coup, and a hilariously failed protest in D.C., the Tea Party can't seem to find a rock to hide under that won't eventually slide away on a slime-trail of hypocrisy, and fall as a flaming Balrog into the bottomless pit of irony.
The other day, we reported on a proud "small government" Teabagger with 10 kids on Medicaid, and the vets that Sarah Palin attempted to use as pawns calling her an idiot. We even tried to tell them that it's time to face the fact that their GOP is in a permanent state of decline.
So, you'd think that at some point, somebody would tell these Baggers to stop making asses of themselves, adding more slime to the trail. But, that never seems to happen…as Tea Party Oregon organizer John Kuzmanich shows. First, let's acquaint ourselves with this epic hero, this Aragorn to Obama's Black Sauron, this Tea Party frontman and former congressional candidate, as he appeared at CPAC in 2011
[divider]
[divider]
That should give you a taste of Kuzmanich. (Sorry about the visual.) But just in case you hunger for a BIT more background, feel free to waste 30 minutes of your life on his appearance on KATU's Your Voice, Your Vote on October 6th. When asked about how he felt about the recent shellacking Teabaggers have taken, Kuzmanich bravely described himself as "battle hardened." He even went so far as to say that
"We are just good and decent principled Americans who believe in the Constitution and a fiscally responsible government."
Got that? "Battle hardened." "Fiscally responsible." His words.
Hey, Kuz…real quick: Do you know what "battle hardening" is? That phrase came from the practice of "battle hardening" a blade by getting it red hot, and then quenching it in oil or water. This gives the blade a hard edge — but it also makes it inflexible. If the flame is too hot, and the quench too cold, the blade will become very sharp…breifly. That's because the overly hardened blade will become brittle like glass, and snap under the first hard blow.
Kuz got his white heat in the fires of Tea Party lunacy, and a cold quench in the Tea Party shutdown. He was still cutting sharply as of last week, until…
CLASH…
He didn't pay his mortgage for three years, and
SNAP!!!
Now he's on the run from Fannie Mae.
[divider]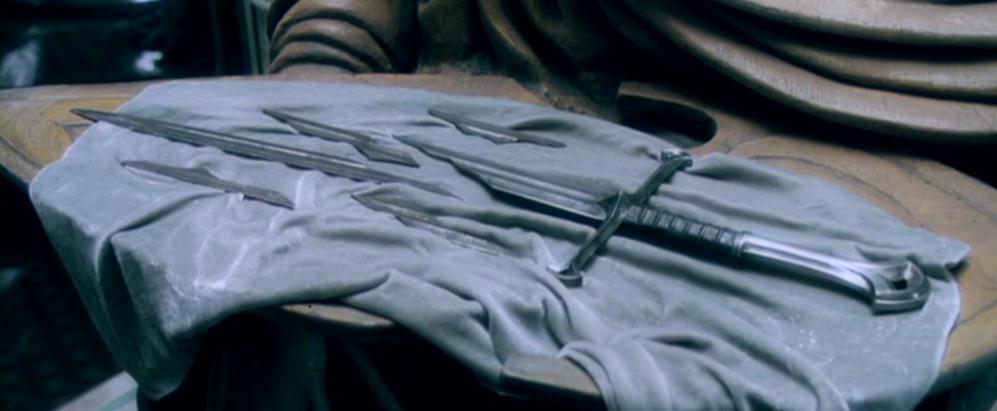 (That's what you get for being Narsil-cistic)
[divider]
Yes, indeedy…as though he had personally serviced the Gods of Schadenfreude (Palin and Cruz) to save mankind, our slime-dripping champion of "fiscal responsibility" was too busy fighting That Black Guy to pay the bills on his $289,000 Beaverton duplex.
As mentioned earlier, Kuzmanich ran an unsuccessful campaign for Congress in 2009. The fact that he's related to (wait for it) the late Republican Senator Mark Hatfield might have played a role in his career ambitions, and it might have helped as much in his campaign as the statement Kuzmanich gave during his run:
"We need to decrease the size of government and make it live within its means just like we do."
Yes…it's OK to laugh.
Fannie Mae isn't laughing, though. In March, those evil Orucai at Fannie filed a suit against our Man of the People, Our Hero, sending process servers to serve him papers 19 times at the duplex, his Cannon Beach apartment, at his former business address, and at the address he listed during his Congressional run. The phones at his (BAH-HA!) political consulting firm, American Strategies, have gone oddly unanswered.
You might think that dodging notices isn't that uncommon…and it isn't. Dodging process servers really is an American Strategy…at least by Tony Stark standards. But Fanuman says that failing to contact someone after 19 attempts and several months is highly unusual. With Kuzmanich in hiding, Fannie has had no choice but to post public notices of foreclosure on the property.
But, wait…didn't Kuzmanich KNOW he had to pay his mortgage, and how the Hell did he get three years to pay when most of us get 90 days and a police escort? Well, Kuzagorn used to be a mortgage broker, so he'd be the guy to ask.
[divider]
Here's AATTP's advice to Fannie:
The next time you go looking for a would-be hero of the Tea Party, who screams "FISCAL RESPONSIBILITY!!!" as a battle cry, and then ducks out on his bills, you might try following the slime trail of irony. You'll find that it leads back under the biggest rock in town.
[divider]