According to the gun nuts, more guns make America a safer place; according to the police, more militarized goon squads make America a safer place. And in a sense, they're both right. They do make our nation safer — for themselves. However, the FBI's latest study shows that "the good guys with guns," however they define themselves, aren't doing much for the rest of us.
According to a new study released by the FBI, mass shootings are on the rise in America. Yes, despite the fact that police are now armed as though they were invading Fallujah, and the fact that there are now more guns in America than people, there have been more than 160 "active shooter" incidents reported in the last 13 years.
That is: Incidents during which police were called out to stop a shooter engaged in the act of killing multiple people.
Funny thing, though.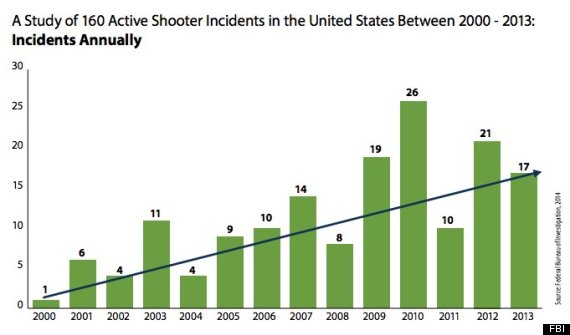 In about 67 percent of those cases, the police didn't arrive until after the shooting spree had ended. For about 2/3s of these events, which typically unfold in a few minutes or less, police arrived after the shooter had already fled or committed suicide. In these cases, the police served better as body disposal than anything else.
But what about the other third?
In these cases, the first responder was usually the nearest patrolman, who arrived in time to engage the shooter. In fully half of those cases, an officer was either killed or injured in the attempt. So where, might you ask, are all these military SWAT teams we spend billions of dollars equipping with military hardware?
J. Peter Blair, an Associate Professor of Criminal Justice at Texas State University told the Huffington Post:
"Generally, a SWAT team is not usually a quick response force. It usually takes them some period of time to spin up — it may be a half-hour, sometimes longer than that…A lot of times the SWAT team can take longer to deploy than the actual event is going on, so a lot of times the SWAT will take a role in controlling the area, containing the area and then searching."
So, as it turns out, the guys who model themselves after a military assault team have about the same response time as…a military assault team. And where are all of America's "good guys with guns" during these events? Strangely, they all seem to be at home. With their guns.
Of course, those same people would say that the solution here is MORE GUNS, EVERYWHERE!!! And the police seem to concur, at least as far as they're concerned. The preferred solution here, as Blair says, is that
"…most of those officers responding would prefer to be wearing a second ballistic vest given the heightened state of threat. Most people would prefer to have a patrol rifle; it gives them an advantage over the individual."
He said that most police departments now have troopers carry around a "go bag" of heavy armament and armor in the trunks of their cars, just in case. If you're wondering, yes,  "patrol rifle" is code for "military surplus M-16." The implication here being that since SWAT teams are obviously useless, police should simply equip every member of every force as a SWAT team member.
There are too many guns in the United States. So, what we need is more guns to protect us from the guys with guns. And when those guns get old and sold to different guys with guns, we'll need more guns to protect us from them. Then we'll need armored personnel carriers to protect us from those guns. Then we'll need tanks to protect us from the APCs, and AT-AT walkers to protect us from the tanks. Eventually, the cops and gun nuts will start buying battleships, and then aircraft carriers to destroy the AT-AT walkers.
Then they'll need Deathstars to destroy the aircraft carriers. Then Unicron will eat the Deathstars, Galactus will swallow the Earth, and Our Dark Lord Cthulu will devour the entire universe.
This place is some kind of f***ed up.