If you're planning on eating a Big Mac, Whopper or stuffed crust supreme, better stock up Wednesday night — because come Thursday morning, you may find employees standing outside holding signs instead of inside salting fries.
The Fight for 15 is coming to 150 cities near you, potentially making it the single largest strike in American history.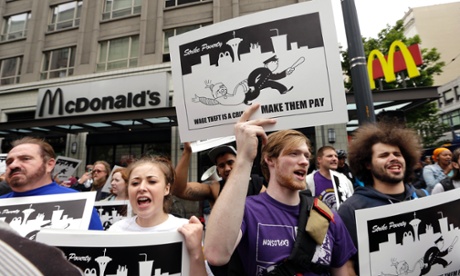 Planned for a mere three days after Labor Day — itself the result of massive strikes and protests — the strike was organized by the union-backed groups Fast Food Forward and Fight for 15. The latter at least has called for a blanket increase of the minimum wage to $15 an hour, but the focus at this point is on the fast food industry and its four million workers.
This strike will be only the latest (and nut by far the largest) of at least seven similar strikes, starting with the New York walkout in November of 2012. And each one has been larger than the last.
This strike was birthed at a union meeting in Chicago (naturally), where over 1,300 low-wage employees gathered under the banner of the Service Employees International Union (SEIU) to discuss strategies for this exact action.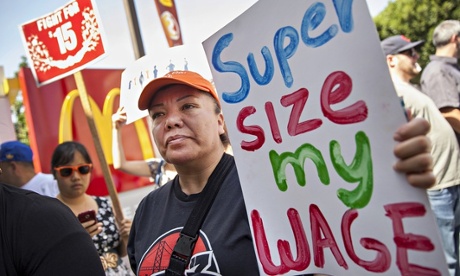 And make no mistake: SEIU, with more than two million members spanning the fast food, hospital worker, home health and sanitation industries is a force to be reckoned with. Remember that scene in Fight Club, where the down-trodden and disillusioned service people of the U.S. gathered together to trigger an economic Armageddon? Yeah — subtract about 10 percent from that, and you're in the ballpark.
A worthy cause to be sure, especially when the taxpayers ultimately end up subsidizing so much of these corporations' bottom lines through welfare and food stamps.
And there's no doubt that America could use a serious labor revolution right now, especially one hearkening back to the glory days of unionization that brought about broad-sweeping social reforms like the New Deal. So, potentially good.
"But," some are undoubtedly saying, "don't you think $15 an hour might be overvaluing service labor a little bit?"
Maybe. An argument could be made for that — but probably not by as much as you might think. Check out this chart, which shows the minimum wage from 1966 to 2013, adjusted for 2013 dollars. Once adjusted for inflation, it's pretty clear that the minimum wage is significantly lower now than it once was.
Interesting note: Every time the minimum wage drops relative to the dollar to its lowest points, a recession follows within a couple of years. See 1973, 1989 and 2006. 
So, is a Fight for 15 slightly overvaluing labor? Possibly, considering the all-time high was about $11 in 1966. But, then again, in 1966 General Motors was the nation's largest employer, and GM paid the modern equivalent of about $50 an hour on average. Now, Wal-Mart is the nation's largest employer, and it's paying less than $10 on average. So it's all relative to net impact.
But here's something that's not relative:
Unless somebody ponies up some cash soon, you're not getting that Meat Lover's come payday this weekend. And if things don't take a drastic turn for the better afterward, you're not getting your sheets changed or your medication, either.