Christmas is that time of year when the right-wing religionists go all out to mingle church and state, and the Thomas More Society, a Catholic-associated law firm, is dedicated to that cause.  The group has the stated goal of placing nativity scenes in as many public buildings or public properties as possible this time of year.
On Thursday, the group erected a 6 by 4 foot nativity scene in the Nebraska State Capitol Building in Lincoln, accompanied by Christmas caroling and prayers to little fanfare.  There had been no objections beforehand and there were no protesters at the scene.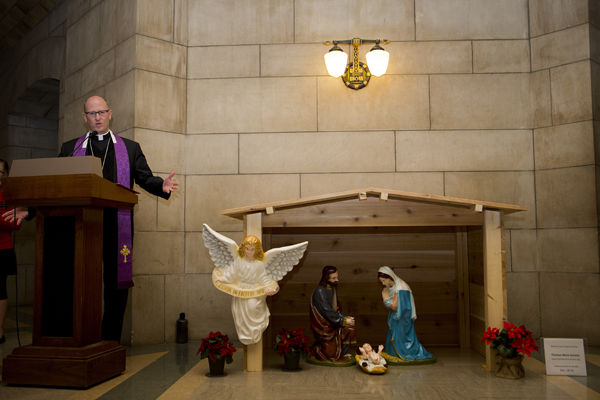 "We want to celebrate the true meaning of Christmas," said Christine Delgado, an Omaha attorney who also heads the Omaha branch of the Thomas More Society.
In many states where the society has placed nativity scenes, competing displays are erected, such as in Florida and Michigan where satanic groups have placed their own displays in the state capitols.  In Florida the state capitol also sports a Festivus pole made of empty beer cans in tribute to the holiday invented by Frank Costanza on the Seinfeld show.
On Friday in Lincoln there was a response.  Scott Braley, an electrical contractor who is also an atheist and a member of the Freedom From Religion Foundation, which works to keep the wall of separation between church and state intact, erected a poster in the capitol near the nativity scene which said that "Religion is but myth and superstition."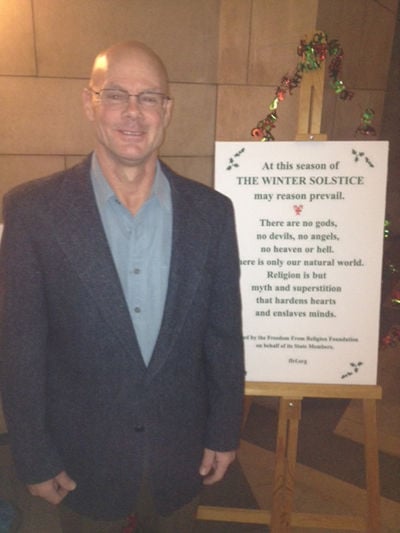 The poster remained in the capitol for only a short time before Braley voluntarily removed it admitting that he had not obtained permission to put it up.
He said that he felt obligated to do something after learning that the nativity scene had been placed in the capitol and that he did not believe that it would be possible to get permission to put the sign up before Christmas and that was the reason that he had erected his poster without permission.
"We're not saying we hate God," he said.  "But to respect all religions, you can't pick one and put it on a pedestal."
State Capitol Administrator Bob Ripley said that if Braley had applied to erect his sign sooner, giving at least two weeks notice it most likely would have been approved as long as it was in good taste.
Braley did receive support from one State Senator, Ernie Chambers of Omaha, who is also an atheist, stopped by to see the sign during the lunch hour on Friday and said, "This is as much his building as the Catholics."
"Thumbs up on this," he said pointing to the sign, "and thumbs down on that."
h/t:  Omaha.com