The TEA Party people are always telling us that if we would stop taxing and regulating businesses, all of those jobs would come back from China and we would be living in a Utopia.  They also claim that businesses will regulate themselves and all will be well with the world.
Shanghai is currently enjoying the results of unfettered manufacturers, most of them from this country, with plants in China where regulation is minimal — not to mention the horrible labor conditions.  For the seventh day this month, officials in that city have told children and the elderly to remain indoors due to the high level of pollutants in the air.
Throughout last week, the air quality has hovered at "heavily" to "severely" polluted based on  Shanghai's Air Quality Index,  with pollution levels so severe that many flights into and out of the city have been cancelled.
Photographs show the city engulfed in an eerie yellow haze.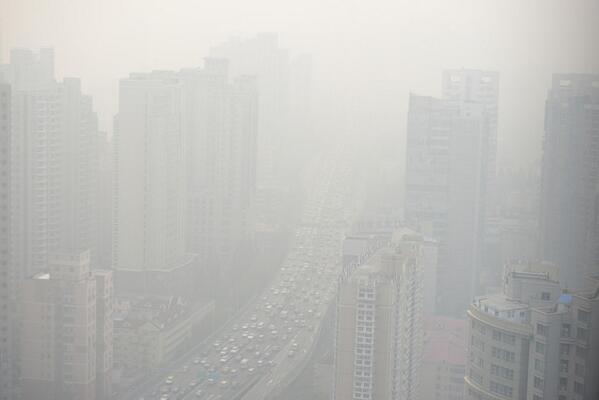 Vehicles have been ordered off the road in an attempt to reduce the pollution and so far about 30% have been removed — and still the haze shrouds the city.
Although they had been warned against competing, some runners completed a marathon on Monday and afterward complained of their lungs hurting.
Pollution levels have nearly topped the scale which the Chinese use to rate them, a scale of 0-500.
This heat map from Greenpeace analysis of NOAA data shows that the pollution is being blown into the city from nearby coal burning regions Jiangsu, Anhui, Shandong and Henan.  The orange indicates the highest levels of sulfur dioxide and the trajectory of the pollutants.
China has at last recognized that it has a problem that is going to take many years to correct.  Even as those on the right in this country ridicule green energy projects as a waste of time and money, the Chinese have doubled their renewable energy sector to produce as much as half of its new electric production.
President Xi Jinping is working closely with President Obama and Vice President Biden to lower pollutants such as hydrofluorocarbons (HFC) and vehicle emissions.
Even though they are working to reduce pollution levels, much of the damage that has already been done will never be reversed. It is estimated that the current pollution levels are taking more than five years off the lives of those living in the north of China.
h/t:  Think Progress