Oh, beloved Earth…have no fear! For we will heal our misdeeds to you not by capping carbon emissions and subsidizing development of renewable solar, wind and tidal energy, but by subsidizing the most renewable energy of all: POSITIVE THINKING! Well, positive thinking and "Leuticum." Which we're told totally isn't Latin for "placebo."
On November 21st, a British homeopath named Grace DaSilva-Hill (owner of the UK's Health4All Naturally, est. 1997) sent an email out to her fellow witches — err, "homeopaths." Her goal: a unified effort to heal the world's oceans…by giving them syphilis.
Grace begins by advising her fellow pure spirits to prepare a mixture of Leuticum in the CM potency. Leuticum is a weakened strain of the syphilis bacteria; it's a "nosode," or homeopathic "alternative vaccine" that said to cure…pretty much everything. Including syphilis. Also alcoholism, apathy, megalomania, facial neuralgia, baldness, rectal fissures, insomnia, bed wetting, post-nasal drip, strabismus, boils and smelly pustules, fear of the dark, forgetfulness, nightly delirium, inflammation of the cornea, sticky teeth, facial asymmetry, paralysis of the tongue, general body pain that starts at 4 p.m. to 10 p.m. and ceases at daybreak, and of course…saddle nose.
And we thought syphilis was only good for inspiring incestuous Germans to scribble down insane fascist manifestos.
Learn something new every day.
Anyway, Grace advised her fellow psycho — HOMEO — paths to mix up a batch of Nietzche Juice, and with "pure love and healing intention" pour it into the nearest river or ocean. However, if your pure spirit happens to be trapped in the house by a massive barricade of cats, you can simply flush your syphilis down the toilet.
Of course, not all of us have access to the healing wonders of syphilis. It is harder to come by since penicillin ruined all the fun. Grace sells it at Health4All, but some of us understandably a bit far from her beaded doorstep. Not to worry, though! Water is alive, and it understands your love and pure intentions. It will remember any of the positive energy you put into it.
So, if you're short of syph, you need only speak the magic incantation "Leuticum!" into a glass of water, and it will be transformed into a flushable cure for oceanic thermohaline circulation failure.
Simple, right?
So, rest assured, loving spirits of Earth…the solution is finally here. No longer do we need to worry about things like dumping untreated sewage into our rivers, floating garbage patches the size of North America, enforcing higher fuel economy and emissions standards or spending money to advance technology in any way. All of our problems have been solved courtesy of witchcraft. Err, "homeopathy."
Jesus.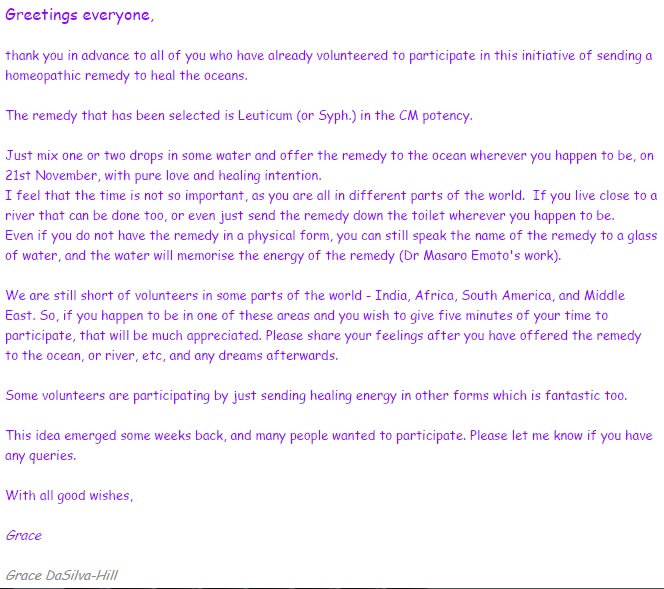 H/T: The Quackometer