Antisocial personality disorder + passive aggressive tendencies = THIS. Behold, the standard self-entitled douche parking job, courtesy of your local American. This photo, believed to have been taken in Texas (of course) was posted on Reddit by user jObe over the weekend. jObe, who we can only assume started posting on Reddit after leaving his previous gig as a Lawnmower Man, made it legitimate big when his photo was re-posted by the NY Daily News.
Since the photo is blurred for kids, we'll spell out this bit of sidewalk chalk graffiti for you: "ASSHOLE PARKING." jObe isn't the first one to take such a tactic against anti-socialites taking up multiple perfectly good parking spaces. It's actually kind of a thing now, like Taylor Swifting, with chalk and anger. You'll probably notice a certain running theme with this first set: they're generally "enthusiast cars." Big pickups, sports cars, German cars or sad little ricers driven by people who can't afford a Nissan or BMW. jObe's pic first: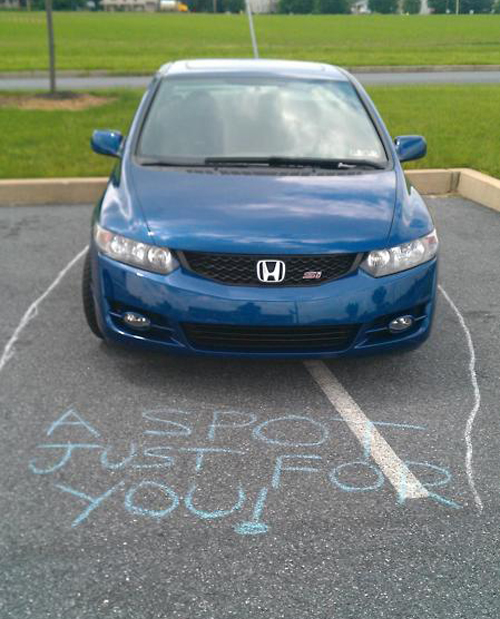 ---
Of course, it's not always practical or reasonable to have chalk on hand, or to have the time or energy to do something like this. For that…welcome to America. We sell EVERYTHING:
---
If you're one of those people who gets caught and dealt justice by roving bands of parking control agents, then try not to get too upset about the card or chalk. It's for your own protection later. And at least it's better than how we truckers used to handle empty four-wheelers parked blocking the fuel isle.
Hey, backing accidents…they happen.
h/t: Opposing Views