Have you ever wondered when — like, at exactly what point — Kirk Cameron said "You know what? I'm just going to ride this evangelical Crazy Train out…see where it takes me." Of course, Kirk's been a born-again evangelical since 1987, two years after he landed his role as Mike Seaver on Growing Pains. He spent a while after the show's cancellation doing Jesus-centric bit parts; but it took a full ten years before Kirk's Armageddon Express found its newest lump of coal in the Left Behind series. From there, it seems the Cameron career word has been "Woot-WOOT, motherF***ERS!! All aboard for The End of the World!!"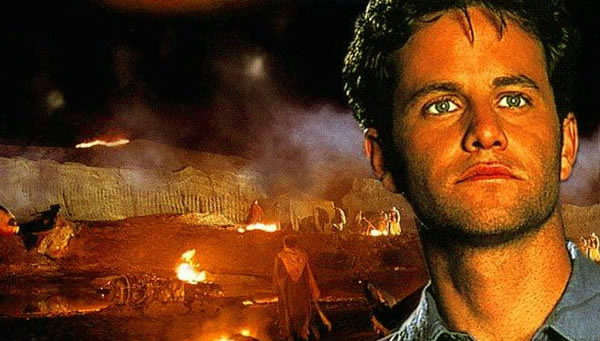 In this segment from Fox & Friends (cunningly titled "The Fight for Faith," in the most fair and balanced way possible), Kirk shockingly argues that the Maryland School Board was wrong to remove references to religious holidays from its 2015-2016 calendar. These holidays (garnered from both of the real religions) include Tom Kippur, Rosh Hashanah, Christmas and Easter.
Oddly enough, the removal of these holidays came not in response to a challenge from atheist groups, but rather, from a request by Muslims that just one of their holidays be included on the calendar. That put the school board in a pretty difficult situation. On the one hand, they could remove all holidays in accordance with the First Amendment, and suffer attacks from neoconservatives on Fox News. Or, they could put the Muslim holiday on the calendar, and…suffer attacks from neoconservatives on Fox News.
After three coin flips and a very productive game of Russian Roulette, the decision was made…Fox News, it is. But Kirk says education is inherently religious. Let's see how this one plays out.
"Look, it's Washington, D.C. I mean, we already know that this city had a reputation of being godless. And so, I think it makes sense to most Americans that if they're going to take Christmas off the calendar, well, if the Grinch showed up actually in a city, it would probably be that city.
But, you know, in the Heartland, we still celebrate Christmas with our kids. In the flyover country, we give them presents, and we say Merry Christmas. So, it's all good."
Without a trace of irony (for the mouthpiece of a group that opposes the "mob rule" of democracy), host Ainsley Earhardt asked "So what do you think about the minority affecting the majority?" Cameron responded:
"Well, we're talking about education, and I think the problem is that education is inherently religious…What is an education that doesn't address ultimate questions like, who are we? Why are we here? What's the meaning of life?"
You're right, Kirk…a well-rounded education should include those things. That's what we call "parenting," and it tends to happen on weekends, and before 8 a.m. and after 3 p.m. on weekdays. In fact, you've got plenty of time for just that; there are 168 hours in a week. So you've got three times longer to teach your kids anything you'd like than the school has to turn them into godless heathens. But, we can see why that might not be enough…so, continue.
"And so, if you try to pull religion or faith out of schools, you're stuck between a rock and a hard place. And that's why my wife and I have kind of provided a kind of education for our kids that Christmas cannot be removed from. And so, private education ultimately is the consistent way to carry out a world view, and to give everyone equal opportunity to raise their kids the way that they want to."
Now, it's at this point we should point out: Kirk's sort of right. Public schooling started out in European monasteries during the Dark Ages. Those monasteries later functionally split into two new institutions: Penitentiaries (prisons) and Universities (public schools). Remember when we were kids, and school seemed like 8 hours a day of jail time and forced labor? No coincidence there.
But, fortunately, we're no longer in the Dark Ages, and public schools are no longer religious institutions. Not that any of that matters to Kirk, for his kids' school is much more akin to a train station. And dawn of each day, that twinkling twilight hour between quiet sleep and peaceful waking, finds the Cameron household singing joyously and sweetly its daily psalm to the Savior:
"Woot-WOOT, motherF***ERS!! All aboard for The End of the World!!"