For those of us who have never known a time without vaccines to protect us from deadly diseases, the current anti-vax movement seems to be a new thing, something that we just never thought would happen.  As it turns out, these people have been around since the earliest days of vaccination, at least two centuries.
A post to Reddit yesterday of a cartoon identified as being from the 1940s could easily be mistaken for being a brand new creation.  Another site, Super I.T.C.H. a blog on historical cartoons says that it is from a 1930 cartoon booklet titled Health in Pictures.
But no matter the original source, it could easily be seen as describing the current crop of anti-vaxxers.
Another commenter on the Reddit thread shared an even older cartoon by English satirist, James Gillray from the early 1800s which depicted the panic of English citizens being inoculated with Cowpox to protect them against Smallpox.  At the time, alarmists were busy warning the populace of the dangers of developing bovine features after vaccination much like the false fears being spread of autism and other dire consequences of vaccination today.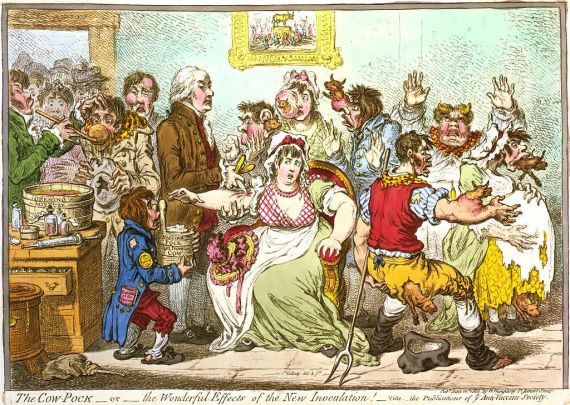 Fast forward to the present and we have a cartoon by Emily Flake that appeared this week in the New Yorker poking fun at the parents responsible for the recent outbreak of Measles in California.
Sadly, we have always had science deniers in out midst and in all likelihood we will continue to have them for as long as mankind exists, but that does not mean that we have to cater to their ignorant demands.
h/t:  Huffington Post