A group of conspiracy theorists calling themselves Architects & Engineers for 9/11 Truth (AE911Truth) is commemorating the 13th anniversary of the collapse of the twin towers by erecting a giant digital billboard which purports to show the intentional "controlled" implosion of WTC 7.
The group was founded in 2006 by Richard Gage, a mediocre architect, for the express purpose of "proving" that the collapse of the WTC was a "false flag" operation of the U.S. government.
The group has managed to divert thousands out of millions of dollars allowing Gage to draw a salary of $85,000 a year while the group continues to ridicule everyone who has completely debunked their outlandish theories.
Metabunk.org, a website dedicated to debunking conspiracy theories, has meticulously analyzed and debunked every facet of AE911Truth's ten point "proof" that WTC7 was taken down by a controlled implosion.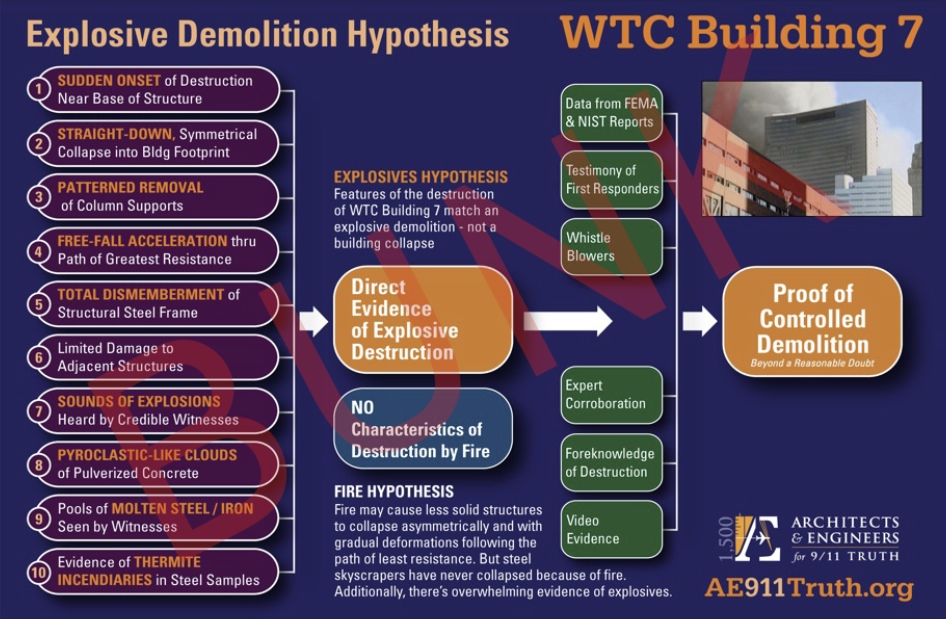 The claim that WTC7 suffered a sudden onset destruction from the base of the building is false.  The penthouse clearly imploded well before the main body of the building began to fall.
AE911Truth would have us believe that witnesses heard explosions just before the building began to collapse, but in the video below, there are no clear explosions heard.