"This is a man who brought people together in life, and he continues to bring people together in death." Those were the words spoken by a CNN news anchor as the cameras rolled on Barack Obama just before he spoke at Nelson Mandela's funeral. Just before he stepped onstage, the President took the time to greet many of the world leaders and dignitaries who stood on the catwalk near the stage.
Those gathered included Raul Castro, former rebel commander in the Communist Party of Cuba, brother of Fidel Castro, and President of the National Assembly of Cuba since 2008. Obama paused for a moment and stopped to shake his hand on the way to the stage — and from conservative reactions, you'd think it was The Handshake That Shook the World. John McCain compared it to the Chamberlain-Hitler handshake, and said:
"It gives Raul some propaganda to continue to prop up his dictatorial, brutal regime, that's all…Why should you shake hands with somebody who's keeping Americans in prison? I mean, what's the point?"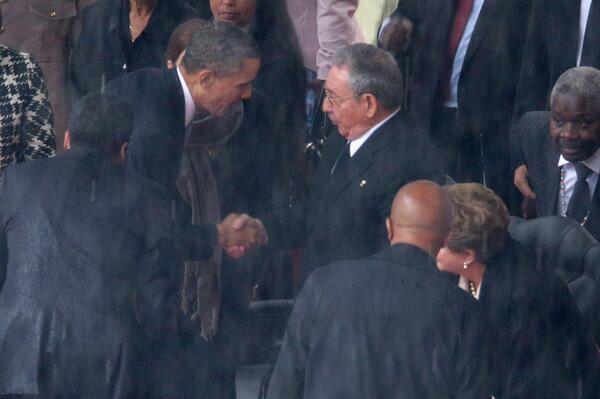 True to form, Marco Rubio's cat-like concept of time and context led him to this gem:
"I'm more focused on policy than some moment, but I thought that if he was going to be there and he was going to shake his hand, he should have asked him about these basic freedoms that Mandela is associated with that are systematically denied in Cuba."
That might be a little more than a "walking by on the way to speak at a funeral" discussion, Marco. Obviously, Marco isn't the only person to pay the reconciler Mandela lip service, but expect to use his memorial service to gain divisive political traction at home. These are the same people who routinely hijack God for breakfast; Mandela, on that scale, probably amounts to a pre-lunch Tic Tac.
However, most acknowledge that the President did the right thing, setting aside national politics to honor the memory of a great man. Of course, Obama didn't exactly let Castro and his ilk off the hook — this bit of bait was as barbed as they come:
"There are too many of us who happily embrace Madiba's legacy of racial reconciliation, but passionately resist even modest reforms that would challenge chronic poverty and growing inequality…There are too many leaders who claim solidarity with Madiba's struggle for freedom, but do not tolerate dissent from their own people."
Take note, conservatives: THAT'S a slap to the face. Not a handshake. Of course, everyone knows you'd rather Obama disregard the purpose of the occasion, spat in Castro's face, told him to shut up, called him poo-poo doody head and said his mom smells like butt. We've all seen Bill O'Reilly. But that's not what a person with any real power does when addressing other people who do.
Diplomacy, first and foremost, is the art of showing respect to people you don't like; it takes intelligence, an understanding of subtlety and a willingness to embrace reason over personal emotion. So, in a way, it's understandable that conservatives would fail to grasp the rationale of bowing to the King of Saudi Arabia, or shaking hands with the President of Iran, Fidel Castro or Raul Castro. But showing respect is how people with power get things done, and publicly disrespecting a person who'll kill 10,000 of his own people to replace lost respect with fear isn't something that a good leader does. Mandela understood that.
So did these guys. Some of the following handshakes were simply photo ops, and others had real political meaning. Some meant pretty much nothing of merit. But all were instances of American Presidents coming palm to palm with often brutal dictators, many of them from hostile regimes.
Ronald Reagan and Mobutu Sese Seko
Reagan shook hands with this Zairian dictator in 1983. Seko was so evil, he's practically served as a role model for every ruthless Banana Republic Dictator since. Fresh off of murdering thousands of his own people, Seko won the praise of Ronald Reagan for graciously extending amnesty to his political opponents.
Nixon and Fidel Castro
This meeting took place in 1959 while Nixon was Eisenhower's vice president, just after Castro's forces took over Cuba. This was a first effort from the U.S. to steer Castro away from the "radical" politics that eventually led to the murders of 75,000 people and alliance with the Soviet Union. Well, it couldn't hurt to try.
Gerald Ford and Augusto Pinochet
Augusto Pinochet was Chili's resident dictator while Gerald Ford was in office, which had more than a little to do with the U.S. itself. Pinochet's brutal coup d'etat was in every way enabled by the C.I.A., which saw this as an opportunity to displace the democratically elected Marxist Unidad Popular government. Pinochet, who was elected by the C.I.A., murdered about 3,200 people, imprisoned about 80,000 and tortured approximately 30,000 men women and children.
Kennedy and the Shah of Iran
Another C.I.A. job, the Shah of Iran, owed everything short of his soul to the American government. No surprise then that Kennedy wasn't afraid to shake his hand — the same hand that signed the death warrants for about 3,500 of his own people.
Nixon and Mao Zedong
To be fair, it wasn't Nixon's fault that Chairman Evil was in office when the U.S. finally broke through China's self-imposed isolationism. It was a historic time, so not even a crook could be forgiven for this one. Even so, you have to wonder how Nixon managed to smile at the reflection of 40 to 70 million starved-to-death Chinese in Mao's forehead.
Truman-Churchill-Stalin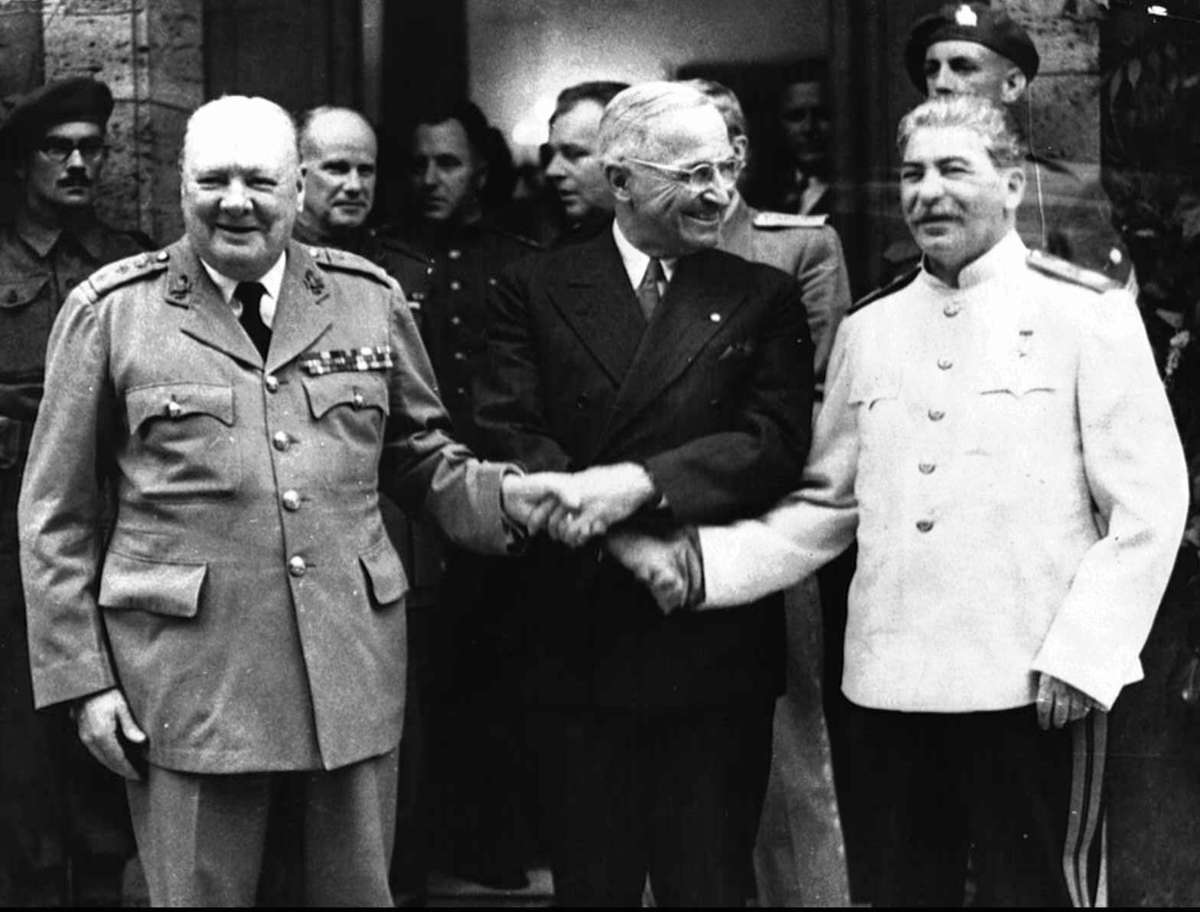 Necessity makes for strange bedfellows, perhaps none so strange as the Allied powers. The Allies' alliance with Joseph Stalin is one of the many uncomfortable shadows of WWII.
Bush, Obama and former KGB Colonel Vladmir Putin
What exactly does a person have to do to become a colonel in an organization known for terrorizing, kidnapping and torturing civilians from its own country and many others? We don't even want to know — and apparently, neither do President's Obama or Dubya Bush.
 h/t: Mediaite